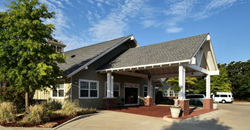 Now [Sagora] can give residents and their families even more peace of mind about what matters most to them with memory care in Tulsa.
Fort Worth, TX (PRWEB) October 04, 2017
Sagora Senior Living, a Fort Worth-based company operating 33 senior living communities across the U.S., announces the acquisition of Storey Oaks of Tulsa located at 7210 South Yale Avenue, Tulsa, OK. Storey Oaks of Tulsa specializes in memory care, complementing Sagora's two existing communities in the area that offer options in independent living, assisted living and memory care.
"We have been next door to Storey Oaks for a long time," said Sagora Senior Living President Bryan McCaleb. "Aberdeen Heights has focused on providing top-quality care on a personal level. Now we can give residents and their families even more peace of mind about what matters most to them with memory care in Tulsa."
Residents in Sagora communities benefit from a "Resident First" philosophy that is reflected in all aspects of programming. Professionally trained associates deliver customized levels of care 24 hours a day focusing on preserving residents' independence and dignity. Sagora's lifestyles program practices a resident-tailored approach to engage residents in meaningful activities that connect them to familiar sights, sounds and sensations.
Sagora is poised to increase its capacity to serve memory care residents in Tulsa. According to Dara Brown, senior vice president of operations, the operational transition effective October 4, 2017, will make every effort to maintain, and even improve, the level of care residents have come to expect in the area.
"We have an inclusive plan to ensure the transition is seamless, giving residents, families and associates at Storey Oaks the support they need during this exciting time," Brown said. "We have meet-and-greet sessions and celebration events scheduled to welcome the newest members of our Sagora family."
Storey Oaks of Tulsa boasts amenities comparable to Sagora's retirement communities throughout Oklahoma, Texas, Alabama and Florida. Features such as covered verandas, landscaped courtyards and fireside library create a home-like atmosphere while nutritious cuisine, inviting common areas and engaging social activities inspire a sense of community.
About Sagora Senior Living
Sagora Senior Living currently has 33 active retirement communities, each with a unique focus on retirement lifestyle choices including independent living, assisted living, respite and memory care. The company's mission is to serve and celebrate the wisdom of their residents and family members by enriching their lives with a "Resident First" philosophy developed locally within each community. Sagora hires only the most qualified industry professionals, implements the most beneficial services and activities, and makes it a priority to listen to their residents. For more information about Sagora Senior Living, visit http://www.Sagora.com.
Media Contact:
Dara Brown 
Senior Vice President of Operations 
817-586-2193 
Dbrown(at)sagora(dot)com