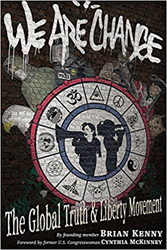 Walterville, OR (PRWEB) September 27, 2017
What started as a small New York City youth group quickly became one of the most prominent grassroots activist/citizen journalist organizations, with over 260 chapters worldwide. The group became a leading force within key political movements, including the 9/11 Truth movement, the antiwar movement, the liberty/patriot movement, and Occupy Wall Street, and confronted some of the most powerful war criminals, propagandists and institutions, on their deepest, darkest lies and secrets.
Featuring the insider account of a founding member, keynote speeches and important dialogue from 21st century thought-leaders, and much more, We Are CHANGE exposes covert reconnaissance operations against peaceful activist groups, explores pressing philosophical questions, and shares tales of trials and tribulations, as well as brotherhood and camaraderie.
Author available for limited interviews.
Please contact Julia Cox @selinacox29(at)icloud(dot)com or (541) 285-0696
About the Author:
Brian Kenny is a founding member and driving force of We Are Change, playing an integral part in organizing some of the largest ever 9/11 Truth rallies and first responder benefits conferences. He personally confronted several political figures including Zbigniew Brzezinski, Rudy Giuliani and Michael Bloomberg and interviewed key eyewitnesses of 9/11.
Cynthia Ann McKinney (Foreward) is an American politician and activist based in Georgia. As a member of the Democratic Party, she served six terms in the United States House of Representatives. She was the first black woman elected to represent Georgia in the House. She left the Democratic Party and in 2008, ran as the Presidential candidate of the Green Party of the United States.