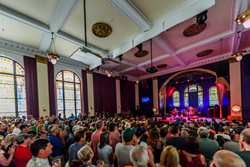 This collaboration continues to have such a significant impact on the community as it allows us to integrate many different music experiences and make them accessible to everyone.
Appleton, WI (PRWEB) September 26, 2017
The popular Mile of Music festival, presented by Tundraland, was held in Northeast Wisconsin in August with 250 artists converging on Downtown Appleton to play 925 sets of live music.
Festival organizers put the preliminary estimate of attendees at 70,000 with an economic impact of $3 million-plus as visitors came from near and far to hear four days' worth of original Americana and Roots music at 70 different venues.
The artists ranged from local acts to international, including Canada-based Cat Clyde, Terra Lightfoot and Fast Romantics. More than half of the performers on the line-up for the festival's milestone fifth year – Mile 5 – had played at Mile of Music before, while others like Ron Gallo, San Fermin and Welles were welcomed for the first time.
"We have worked to create a different kind of festival experience in Appleton and it's exciting to hear from so many artists who want to come back and make The Mile a repeat tour stop," said Dave Willems, Mile of Music managing director and co-founder.
In planning the festival each year, Mile organizers have done a lot of work to ensure that the artists are taken care of and feel at home during their stay.
This includes the extension of the popular Artist Care Program which was first introduced at Mile 3 in 2015. With the expanded program, Mile of Music facilitated many extra services for the artists, including complimentary dental exams from Romenesko Family Dentistry as well as hearing screens from About Better Care Audiology. Optical exams, physical therapy and massage therapy were among the other care services available at Mile 5.
"With such busy tour schedules, many artists don't have the time or flexibility to schedule something as routine as a dental exam," Willems said. "This inspired us to put together a program with care providers and the artists have been very receptive to it."
Mile 5 also featured a similar hospitality program that focused on food and lodging needs. This program was designed to match artists with the appropriate overnight accommodations or host families. It was also set up to provide food options ranging from beverages/meals at the Artist Lounge within the festival headquarters to gift certificates from several host venues and other Downtown restaurants/pubs.
As Willems explained, "These programs are just one more way our community can welcome the artists to Appleton and thank them for putting on some exceptional performances here."
The festival continues to be one of the largest free music events hosted in the United States that exclusively showcases original music and blends in extensive music education and interactive opportunities for attendees. In addition to live music at indoor and outdoor stages throughout the weekend from August 3-6, attendees could catch mini sets aboard the Mile of Music bus and at pop-up performances. The Music Education Team from Lawrence University staged 60 hands-on sessions that allowed people of all ages to get in on the music-making. Activities ranged from instrument and dance workshops to jam sessions and sing-alongs.
"By incorporating an educational element, we hope to inspire even the youngest artists to keep exploring their love for music," Willems shared.
Nearly 100 corporate and community sponsors – plus hundreds more individual sponsors called Music-Makers – helped fund the festival.
Tundraland was among those sponsors, signing on as Mile of Music's Presenting Partner for the third consecutive year. "This collaboration continues to have such a significant impact on the community as it allows us to integrate many different music experiences and make them accessible to everyone," said Brian Gottlieb, president of Tundraland.
ABOUT MILE OF MUSIC
Mile of Music is an artisan, all-original music festival that launched in August 2013 as a creative economy driver in Downtown Appleton, Wis. The four-day festival is held in August with the support of more than 100 community sponsors and 400 volunteers, featuring nearly 1,000 live music sets from 250 artists at 70 venues along the one-mile, walkable stretch of College Avenue and the nearby riverfront.
ABOUT TUNDRALAND
Headquartered in Kaukauna, Wis., Tundraland is an experienced home improvement company with a staff of more than 200 designers and craftsmen. It features made in the USA products and specializes in the design and remodel of projects ranging from custom decks and bathrooms to replacement windows and walk-in tubs.