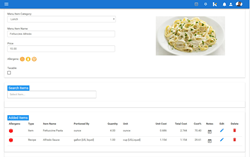 You need recipe-costing.com like you need pots and pans!
Miami, Florida (PRWEB) September 27, 2017
Recipe-Costing.com is the fastest growing restaurant management platform that automates sales, recipes, menu engineering and inventory across 100 countries around the world. By offering a powerful back office suite and a low entry monthly subscription, Recipe-Costing.com is automating many of the tedious day-to-day operations helping restaurant operators to become more efficient with a cost-effective solution. Recipe-Costing.com can be used by a single unit operator, a multi-unit operation, a franchise or franchisees with multiple locations.
Recipe-Costing.com was created out of necessity by founder Robert Vasquez who owned several restaurant locations. "Managing the paperwork and cost for one location was crazy, try multiplying it by five or more and you'll drive yourself nuts. Our approach is unique compared to our competitors. We focused on simplicity when building recipe-costing.com and although its simplicity was important, we made sure Recipe-Costing.com was rich in features that made sense to the restaurant operator," said Robert Vasquez
Many restaurant owners struggle with getting a true understanding of the business. Ask about menu costs and most won't have an answer. Ask about trends in cost or what the weekly prime cost is and those numbers are not available. "I understand why, there are many moving parts in a restaurant and doing the numbers isn't a priority when focusing on customers, vendors, and employees." said Robert Vasquez."
Improving automation meant more features like managing multiple locations, scaling recipes, shopping list, prep list, USDA integration, nutritional labels, allergens and breakeven points are just some of the features offered including an automated prime cost report for users. To enhance the user experience popular tablet point of sale systems are integrated.
An easy to use, cost effective and powerful back office is what sets Recipe-Costing.com apart. "This has literally changed my business. I would manually hand calculate everything. Once I found recipe-costing.com, I could start focusing more on my business and less on the logistics of food costing and shopping. I love how easy it is to configure a shopping list. The ability to scale a recipe from 1-1000 is simply amazing! So convenient!" said Paul Arellano, Owner Operator of Elite Meal Prep, LLC.
Robert wanted to prove recipe-costing.com does as advertised. "There are so many products on the market that promise to do half of what we promise and they fall short while over charging the restaurant operator. We offer a free 30-day trial, no credit card required to allow customers to verify the numbers this includes training and support.," said Robert Vasquez.
About Recipe-Costing.com
Recipe-Costing.com software is a product of Kitchen Porter Tech LLC. Robert Vasquez worked in the restaurant business for over a decade while attending college. After graduating from NOVA Southeastern University, he worked as a financial controller and software developer before owning and operating his own restaurants. His education and work experience have given him a unique insight to building automated systems that work! The Recipe-Costing software platform provides restaurant operators automated back office tasks providing counts, costs, and analytical reports. Join over 3,500 restaurant operators across 100 countries. For more information visit https://www.recipe-costing.com.