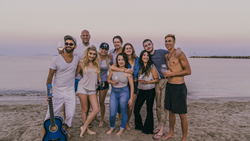 "I had an incredible time at this year's Mustaine Writers Retreat. I was so thankful to be invited to write music in Greece, and along the way I met people that I would come to love," says music producer Lost Boy
Nashville, TN (PRWEB) September 26, 2017
Electra announced today the successful wrap of the 2017 Mustaine Writers Retreat. Electra hosted her 2nd annual Mustaine Writers Retreat in Syros, Greece in early September providing a global experience for songwriting creativity. The invitation-only retreat had established songwriters and producers from the U.K., Denmark, Italy and the U.S. who collaborated successfully. The creative people who were invited are associated with acts including Bruno Mars, Flo Rida, Justin Bieber, Madonna, Mutt Lang and Shania Twain.
"After the first Mustaine Writers Retreat in Scotland in 2016, I could not imagine following up with a stronger creative experience," says Electra Mustaine. "The group who collaborated in Greece was phenomenal! I was not expecting the outcome of this trip to be as incredible as it was. I am grateful for the opportunity to work with these wonderful talents from around the world!"
The Mustaine Writers Retreat featured 5 days of songwriting sessions, sightseeing, beach & pool parties, gourmet dinners from a world-class estate on Syros, Greece. The event was sponsored by Ojai Energetics, Huski Chocolate and CTK Management. The event was held on a private beach estate on the beautiful Greek island of Syros. The songwriters, producers and social influencers successfully collaborated and wrote more than a dozen songs that many music insiders consider hits.
"I had an incredible time at this year's Mustaine Writers Retreat. I was so thankful to be invited to write music in Greece, and along the way I met people that I would come to love," says music producer Lost Boy from Los Angeles. "The energy and welcoming spirit was undeniable. I hope to come back next year and share this experience with even more great people."
"I've been to a bunch of songwriting camps in my career, but this one was definitely different. Different in the most positive way," says songwriter Tim Schou from Denmark. "Mustaine Writers Retreat feels like a moment in time when everything else fades away, creating the perfect atmosphere for, well… creating."
Pop artist & songwriter, Electra, is a rising musical talent known best for her witty songs, charming attitude, and unique upbringing. California native, now making a name for herself around the world, made her first debut in Rolling Stone at just 18 years old. Collaborating with hit songwriters and producers such as Nathan Chapman and Blair Daly, all of which are well known for acts such as Taylor Swift, Meghan Trainor, and other accomplished artists, Electra discovered and developed her sound in pop music.
Being the daughter of heavy metal god, Dave Mustaine, founder of Grammy-award winning band Megadeth, she is certainly no stranger to the public eye. Currently residing in Nashville, Electra and her family members each independently form and build creative businesses stemming from the entertainment industry. Electra created the Mustaine Writers Retreat as a unique global travel / music experience and has successfully hosted two – in Glasgow, Scotland in 2016 and Syros, Greece in 2017.
Weblinks: http://www.instagram.com/mustainewritersretreat / https://www.facebook.com/MustaineWritersRetreat / http://www.ElectraOfficial.com / http://www.twitter.com/electramustaine /
To arrange press interviews with Electra, contact Publicist Elizabeth Motley via LizMotley (at) me (dot) com.
Suggested Tweet: NEWS: @ElectraMustaine wraps successful 2nd annual #MustaineWritersRetreat from Syros, Greece! Details via ElectraOfficial.com