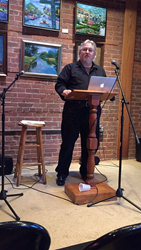 "The Romantic Poet of the Internet" - 1996, Yahoo!
Sterling, Virginia (PRWEB) September 28, 2017
William F. DeVault, known as The Romantic Poet of the Internet for more than two decades, has a new sobriquet to add to his list, the US National Beat Poet Laureate. He was honored by the National Beat Poetry Foundation in New Hartford, Connecticut on September 2, 2017, along with other awardees for multiple states, cities, and even the foundation's first international awardee, Dr. Chryssa Velissariou of Greece.
This festival coincides with the release of both a collection of the NBPF honorees' poems by Local Gems Press, entitled "Be-At", and the publication of DeVault's 23rd book "Bragi" (ISBN-13: 978-1974584031). This makes for a busy season for the poet, who has pledged to "extensively tour" during his term as the Beat Poet Laureate. A tour of multiple venues and cities, to include Ocean City, Maryland; Clearwater, Florida; Athens, Greece; New York City; San Diego, California; and Morgantown, West Virginia, is being arranged.
DeVault's connection to Morgantown and West Virginia goes deeper than that, as he attended Morgantown High School and West Virginia University, and his book "The Morgantown Suite Poems" is an intimate look at the people and places he knew in his decade plus of living there. In 2005 he was honored by the Appalachian Education Initiative as one of 50 outstanding public school graduates of the Mountain State in their volume "Art & Soul". Morgantown is also the home of the West Virginia Beat Poet Laureate, Daniel McTaggart, with whom he has previously collaborated.
"Bragi" features 62 poems, in honor of the poet's 62nd birthday this past August 16, covering his usual topics of romance, passion, and identity, heavily layered with metaphors from the worlds of religion, mythology, and the arts. The stunning and controversial cover is by his regular collaborator, Ukrainian photographer and model Mariya Andriichuk, and features her award-winning nude "Paradise Apple", which received the first prize in the prestigious Trierenberg Super Circuit in 2011, and received a gold medal in the Nude category.
For further information:
The National Beat Poetry Foundation:
http://nationalbeatpoetryfoundation.org/
William F. DeVault's City of Legends
http://www.cityoflegends.com
Bragi at Amazon.com:
https://www.amazon.com/Bragi-Wiiliam-F-DeVault/dp/1974584038/