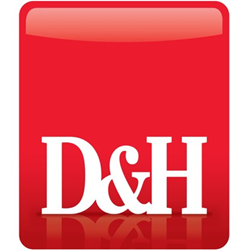 Dropsuite helps IT solution providers generate recurring revenue.
MELBOURNE, Victoria (PRWEB) September 27, 2017
Dropsuite Limited (ASX: DSE) (Dropsuite), a leading cloud data backup platform for small and medium businesses (SMBs), is pleased to announce it has signed a new distribution partnership with D&H Distributing Co. (D&H), a leading technology distributor of IT and electronic solutions.
Dropsuite's Email Backup and Archiving services provide end-customers comprehensive and easy-to-use solutions that protect against unexpected email data loss and, where required, adheres to data archiving compliance needs. These services are fully compatible with Microsoft Office 365 and most other email systems, and are now available to Value-Added Resellers (VARs) and Managed Services Providers (MSPs) via the D&H Cloud Marketplace portal.
The D&H Cloud Marketplace Portal allows VARs/MSPs to easily and seamlessly assemble a customized group of various software services, including Dropsuite's Email Backup and Archiving, which they can resell, providing a straight-forward path for these VARs/MSPs to transition toward a more service-oriented model that is becoming prevalent and profitable amongst suppliers of IT hardware and software to SMBs.
D&H (http://www.dandh.com) was founded in 1918, and is one of North America's leading technology distributor of IT and electronics offering end-to-end solutions for today's reseller and retailer and the clients they serve across the SMB and consumer markets. D&H maintains a special focus on independent VARs expanding their competencies in areas such as hosted and cloud services, the modern mobile workplace, comprehensive SMB server networks, and cross-market expertise across verticals including small business, education, healthcare, and government.
Peter DiMarco, Vice President of VAR Sales at D&H Distributing, said:
"D&H is excited to add Dropsuite's solutions to our Cloud Marketplace portal, expanding our service offering to include powerful, hosted data protection based on the Microsoft Office 356 platform.
"The Company's versatile line of products for email, server, and mobile device backup will contribute to an effective business continuity offering for our resellers and MSPs."
Ridley Ruth, Chief Operating Officer of Dropsuite, said:
"We are pleased that D&H recognizes the value of Dropsuite's products and look forward to building on this relationship to help even more IT solution providers meet customer data protection needs, reduce support costs and generate recurring revenue.
"This partnership with D&H is strategically aligned with Dropsuite's expansion plans in its reach throughout North America by partnering with leading distributors."
About D&H Distributing
D&H Distributing believes the most important element of doing business is developing relationships for mutual success. The company continues to build upon its 99-year-old culture by providing its manufacturers, co-owners, and partners with the utmost customer care, consultative guidance and multi-market expertise.
As one of North America's leading technology distributors, it delivers a wealth of enablement resources and hands-on support services that empower resellers in the supply channel. The distributor is headquartered in Harrisburg, PA, in the US and in Brampton, Ontario, in Canada.
Additional warehouses are located in Atlanta, GA; Chicago, IL; Fresno, CA, and Vancouver, BC, Canada. Call D&H toll-free at (800) 340-1001, via http://www.dandh.com, or follow the distributor's Facebook and Twitter feeds, https://www.facebook.com/DandHDistributing/ and @dandh.
About Dropsuite
Dropsuite is a global cloud software platform enabling SMBs in over 100 countries to easily backup, recover and protect their important business information.
Dropsuite's network of preferred reseller partners has a combined customer reach of millions of small and medium-sized businesses worldwide. Dropsuite's products include website and database backup, email backup and email archiving. Dropsuite partners with some of the biggest global names in the hosting and IT service provider market, including GoDaddy, the world's largest domain name registrar, and Ingram Micro, the world's largest distributor of computer and technology products. Dropsuite was launched in 2012 and is headquartered in Singapore with a sales presence in the US, Europe, Japan, and Australia. 
For more information please visit: http://www.dropsuite.com or contact:
 
Rod North, Managing Director, 
Bourse Communications Pty Ltd
T: (03) 9510 8309, M: 0408 670 706
E: rod(at)boursecommunications(dot)com.au 
 
Jon Samsel, Head of Marketing, 
Dropsuite Ltd
E: jon(at)dropsuite(dot)com