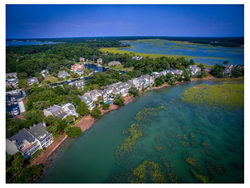 Hilton Head Island, S.C. (PRWEB) October 03, 2017
Hilton Head Island is known for its beaches, golf, and spas. But agents who work with Multiple Listing Service of Hilton Head Island can tell you why the locals love it so much. Here are five of the best things about the area that make living in Hilton Head first-rate.
1. An Abundance Of Nature
You're bound to see plenty of it in and around the area. If routine run-ins with deer, birds, and reptiles aren't enough, you can head out to Pinckney National Wildlife Refuge. It attracts thousands of migratory birds annually and provides a nesting habitat for birds like ibis, egrets, and herons. There is also a chance you may spot a bobcat. Another option is to ride a horse through the Sea Pines Forest Preserve with Lawton Stables or watch the dolphins play in the Harbour River, whether standing on the coast or boating or kayaking along side them. Catch all the other sea life that is so abundant, like crabs and shrimp, and bring them home for a great meal. Seafood doesn't get any fresher than that.
2. Ample Amounts Of Art
Hilton Head is full of museums and theaters and even has a popular jazz bar. Learn about the natural history and cultural heritage of the Lowcountry at the Coastal Discovery Museum. Or, take in a professional show at the Arts Center of Coastal Carolina. You can find representational drawings, paintings and sculpture by the nation's leading artists at the Red Piano Art Gallery, South Carolina's oldest professional gallery of fine art. Spend your Friday nights at the Jazz Corner and take a step back to an old-school jazz nightclub. Modern southern food and live jazz make a combination that will make you want to keep coming back.
3. Fun On The Water
From deep sea fishing to sailing, you'll never run out of options for making the most of island living. Creek Cat tours offer small outboard motor boats that can cruise among the wildlife. Flying Circus offers sailing lessons. You can rent or bring your own paddle board, kayak, or Jet Ski out on the river or if you're brave enough, into the ocean. There's parasailing, skiing, canoeing, and just sight seeing while you spend a relaxing day on the boat. Did we mention dolphin and whale watching?
4. Find The Unique
One of the fun things to do on the island is foot golf. The game requires you kick a soccer ball into a 21-inch cup in as few kicks as possible. Players of all ages will enjoy the 9-hole, foot golf course on Planter's Row at the Port Royal Golf Club. Take the Alligator, wine and cheese tour with H2O sports in a riverboat in the freshwater lakes of the Sea Pines Resort Forest Preserve. Walk, and keep time, by the King Neptune Sundial standing guard at the Shelter Cove Harbour. Many of the restaurants are like you find nowhere else. From Claude & Uli's Bistro, where you can find escargot and other fantastic French fare, to Hudson's Seafood House, which prepares its food right out of the water, there are distinguished tastes for all kinds of palates. The longer you stay in Hilton Head, the more interesting things you'll find.
5. Engulf Yourself In History
From Gullah culture to the Civil War, Hilton Head is full of history and has an abundance of ways for you to learn about it. Not only are there Gullah heritage tours, where you can learn how the enslaved people preserved their rich culture and impacted life today, but you can swing by Mitchelville, the first freedmen's town in America. Take a drive down Beach City Road, past the churches, homes and school building still standing there today. Stop at Mitchelville Freedom Park on your way for a view of the site of the Battle of Port Royal and historical markers explaining much of the history of the area. Speaking of, four forts were built on Hilton Head during the Civil War. The remains of two earthen embankment forts, Fort Mitchel and Fort Howell, will fascinate Civil War buffs. Fort Walker was one of the targets of the largest naval battle ever in U.S. waters, the Battle of Port Royal.
HHIMLS members have even more insight into the area and can find your piece of paradise in and around Hilton Head using all the latest tools in the real estate business. Facilitating $3 billion in real estate transactions annually, HHIMLS helps the home buying and selling process by keeping inventory, real-time statistics, and tracking trends. It also uses the most advanced platforms to make the process smooth and simple, no matter if a client is on the buying or selling side of a transaction. Turn to HHIMLS to make Hilton Head your home today.
About Multiple Listing Service of Hilton Head Island
Multiple Listing Service of Hilton Head Island (HHIMLS) is a premier multiple listing service in South Carolina, established in 1976. A proud member of the Council of Multiple Listing Services, it is the listing platform facilitating more than $3 billion in annual real estate transactions. Headquartered on Hilton Head Island, it serves all of South Carolina. HHIMLS is vital to real estate professionals' and to consumers' success by maintaining the most dependable and powerful data in the marketplace, updated in real time. More information about HHIMLS is available at hiltonheadmls.com and (843) 785-9696.