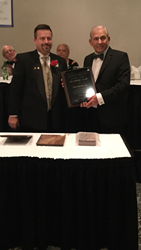 Lancaster County, Pa. (PRWEB) September 28, 2017
PDQ Manufacturing is the 2017 recipient of the Greater Philadelphia Locksmiths Association's Industry award. PDQ, based in Lancaster County, Pa., is a premier manufacturer of lock and security hardware and systems.
The award was given Sept. 22 during the association's 68th annual banquet at the Hilton Airport Doubletree Inn, Philadelphia. The banquet caps the GPLA's convention each year. Bill Tell, PDQ President and CEO, accepted the award.
The Industry Award is given selectively to a firm and an individual for their unusual contributions to the growth and stature of the craft. It is not necessarily awarded each year.
Ed Fitzgerald of Arnold's Safe & Lock, Pennsauken, N.J., chairman of the convention awards committee, said the selection of PDQ reflected the company's long-term commitment to the success of the locksmith community.
"PDQ is well-known for providing great products at prices that make sense to locksmiths," he said. "This is a company that allows us to be competitive while maintaining the quality of the product."
Bill Tell said his firm views the award as an important honor, reflecting PDQ's market intentions over the course of decades.
"We really feel that this is recognition for many years of work responding to the specific needs of locksmiths in the greater Philadelphia area. They represent an important part of the market that some manufacturers don't always serve as well as they might. We're very pleased that the GPLA respects our efforts to combine quality and value across our whole product line."
For more on PDQ and its products, please visit http://www.pdqlocks.com.
About PDQ Manufacturing
Family owned and managed for over 35 years, PDQ has maintained its commitment to remain independent as a market leader, introducing cutting edge, innovative products and setting the standard for service, quality and value. Based in Lancaster County, Pennsylvania, PDQ serves its customers with a world class offering of in-house engineered and manufactured commercial grade architectural hardware and cloud-hosted access management products.
"We're one of the few remaining U.S. door hardware manufacturers still family owned that offers that personal touch and independence that the larger, foreign-owned corporate conglomerates have difficulty matching. And that American family spirit is what we're able to relate to when serving our many, still family owned distributors, "says Bill Tell, Founder, President and CEO of PDQ Manufacturing.