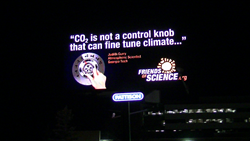 recent reports that climate models (simulations) are exaggerating warming show that climate change causes and outcomes are uncertain – a 'low-carbon' society may not have any effect on climate and financial institutions must reflect this uncertainty
Calgary, Alberta, Canada (PRWEB) September 27, 2017
ShareAction, a UK registered charity, recent demands for climate risk disclosure from financial and investment groups, as reported in the Financial Times Sept, 13, 2017, is based on outdated climate simulations that have predicted too much warming says Friends of Science, referring to The Times of Sept. 19, 2017.
Friends of Science Society says along with ShareAction, the CDP Worldwide and UNPRI are also operating on outdated climate catastrophe thinking that is not in keeping with principles of continuous disclosure, as required by investment regulators, particularly on any material change, a topic discussed in a NERA document by Bradley A. Heys, entitled "Economic Analysis Of Materiality For Canadian Securities Litigation." (Link: nera.com/)
None of the organizations - ShareAction, the CDP and UNPRI is elected or accountable - but they hold tremendous sway over public policy due to the trillions of dollars in assets under management held by signatories, says Friends of Science. The UNPRI's 2016 Annual Report requires a 'climate pledge' from participants and major institutional investors were urged to lobby recalcitrant companies in countries like Canada, the US and Australia to comply.
In Canada, SHARE, another shareholder group, funded a legal opinion by the firm Koskie Minsky that told pension fund trustees that 'climate change denial is not an option.' Friends of Science issued two rebuttal publications on Feb. 1, 2017 entitled "Climate Change Insights for Pension Fund Trustees and Beneficiaries" and "Climate Change Risk Clouds Boardroom Competency."
The recent reports that climate models (simulations) are exaggerating warming show that climate change causes and outcomes are uncertain – a 'low-carbon' society may not have any effect on climate and financial institutions must reflect this uncertainty, says Friends of Science. The science community has been aware of the divergence of models and actual temperatures for well over a decade.
Supporters of the Paris Agreement often refer to the Intergovernmental Panel on Climate Change (IPCC) as the authority for these climate policies. But in correspondence from the IPCC to Friends of Science in 2015, posted on their blog, the IPCC stated that it does not make recommendations of any kind. The IPCC indicated they also have no peer-reviewed literature to support their published claim on 'decarbonization' passage SPM.4.2.2. that suggests phasing out coal and moving to wide-scale renewables is a "cost-effective mitigation strategy." They also indicated, the 2°Celsius 'target' that is central to the Paris COP21 Agreement for emissions reduction is a political target, not a scientific one.
A paper by Prof. M.J. Kelly of Cambridge of May 23, 2016, in MRS Energy & Sustainability, showed that wind and solar do not produce enough energy to support even a basic society.
In his paper he noted key discussion points that:

Only fossil fuels and nuclear fuels have the ability to power megacities in 2050, when over half of the then 9B people will live in them
As the more severe predictions of climate change over the last 25 years are simply not happening, it makes no sense to deploy the more costly options for renewable energy."
Friends of Science Society says natural factors like solar cycles and ocean fluctuations are the main drivers of climate change.
About
Friends of Science Society is an independent group of earth, atmospheric and solar scientists, engineers, and citizens, celebrating its 15th year of offering climate science insights. After a thorough review of a broad spectrum of literature on climate change, Friends of Science Society has concluded that the sun is the main driver of climate change, not carbon dioxide (CO2).
Friends of Science Society
P.O. Box 23167, Mission P.O.
Calgary, Alberta
Canada T2S 3B1
Toll-free Telephone: 1-888-789-9597
Web: friendsofscience.org
E-mail: contact(at)friendsofscience(dot)org
Web: climatechange101.ca