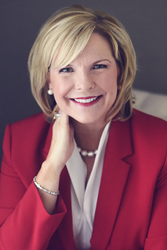 The Centric Bank leadership team, 67% of whom are women, has led a record-breaking year of market success with double-digit commercial loan and earnings growth, as well as ranking in the Top 100 for SBA loans in the U.S.
Harrisburg, Pennsylvania (PRWEB) September 27, 2017
Centric Bank has been named a Top Team in American Banker's 25 Most Powerful Women in Banking™ recognition for the second consecutive year, announces Patricia (Patti) A. Husic, President & CEO. The Centric Bank leadership team, 67% of whom are women, has led a record-breaking year of market success with double-digit commercial loan and earnings growth, as well as ranking in the Top 100 for SBA loans in the U.S. One of only five top banking teams recognized in the country, the Centric Bank team will be honored October 5 at a dinner and awards ceremony at Cipriani Wall Street in New York City.
"Our team's success is further evidence that diversity and inclusion deliver a breakaway advantage," says Husic, who was also recognized as #17 on the 25 Most Powerful Women in Banking™ list. "It's been a year of honors for our executive management team, including our third Best Places to Work in PA award, fifth Top 50 Fastest Growing Companies recognition, and the distinguished honor of being nationally celebrated as one of only 13 executive teams in banking with a female CEO/CFO duo at a public financial institution."
The Centric Bank Top Team includes Patricia Husic, Sandra Schultz, Leslie Meck, Michele Light, Christine Pavlakovich, Tania Fleming , Cheryl Sakalosky, Andrea Ahern, Stacy Beeler, Deborah Block, Vickie Broughton, Mary Anne Bayer, Peggy Elder, Veronica Rodgers, Gethan Wilson, Maura Cohen, Jan Hastings, Florence Lynch, and Molly O'Keefe.
Centric Bank's strategy of Shattering Expectations represents Husic's reimagination of the changing face of banking.
"We are supporting and growing the next generation of strong women in banking and much of that comes from Patti's vision for Centric Bank, as well as her passion for our industry. Not to mention, five of our Millennial Advisory committee members are our female millennial employees," says Leslie Meck, SVP, Chief Retail Officer. "It is a privilege to be part of an organization that recognizes, rewards, and challenges women to invest in themselves and their careers. With Patti's vision, passion, coaching, and leadership, we are laying the foundation for aspirational women to advance their careers and to have opportunities to recognize their full potential."
"Understanding Centric Bank's culture of inclusion for high-achieving women, our charge is to seek ways to advocate and nurture young female reports. Across business lines, Centric Bank women are providing innovative solutions with immediate, direct impact on the bank's bottom line and contributing to our 36% loan growth and 69% increase in non-interest income. Making a difference is what drives us, and I look forward to investing in our next generation of young women by strengthening the talent pool and being a vital community and board resource," says Michele Light, SVP, Market Leader.
Now in its fifteenth year, the Most Powerful Women in Banking annual ranking recognizes women for their impact on their company, the financial industry, and the community at large, as well as for their leadership skills and innovation in the face of professional challenges. The complete rankings can be viewed at American Banker's website and are featured in the October issue of American Banker Magazine.
ABOUT THE MOST POWERFUL WOMEN IN BANKING
American Banker's Most Powerful Women in Banking recognizes the professional achievements and influence of the top-performing female executives in banking and financial services. The annual program, now in its 15th year, encompasses four lists: the 25 Most Powerful Women in Banking™, the 25 Most Powerful Women in Finance, the 25 Women to Watch, and the Top Teams in Banking. Rankings and details about the awards dinner are available at americanbanker.com/women-in-banking.
ABOUT CENTRIC BANK
A three-time Best Places to Work and named a Top 50 Fastest-Growing Companies for five years, Centric Bank is headquartered in south central Pennsylvania with assets of $525 million and remains the leader in organic loan growth in central Pennsylvania. A locally owned, locally loaned community bank, Centric Bank provides highly competitive and pro-growth financial services to businesses, professionals, individuals, families, and the health care and agricultural industries. Centric Bank was named a Top 100 SBA 7(a) Lender in the United States in 2016 and ranks #2 in approved SBA 7(a) loans in the Commonwealth of Pennsylvania.
Founded in 2007, Pennsylvania-based Centric Bank has financial centers located in Harrisburg, Hershey, Mechanicsburg, and Camp Hill, and loan production offices in Lancaster and suburban Philadelphia. To learn more about Centric Bank, call 717.657.7727 or visit CentricBank.com. Connect with them on Twitter, Facebook, LinkedIn, and Instagram.
Centric Financial Corporation is traded over the counter (OTC-Pink) with the ticker symbol CFCX.
###