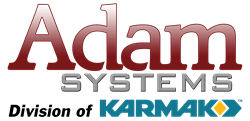 For us, it helps boost our efficiency – putting an end to the dreaded double entry component of inspections. We're looking forward to how this increase in efficiency will benefit our customers," says Brian Bice, General Manager / Dealer Principle of Bice Motors
Spanish Fort, AL (PRWEB) September 28, 2017
ADAM Systems, a division of Karmak and provider of dealer management solutions in the automotive industry, is pleased to announce that ADAM DMS has upgraded its integration with Dealer-FX ONE Platform from one-way to bi-directional. Dealer-FX's ONE Platform is the leading customer experience management platform that has been proven to triple customer retention for automotive OEMs and dealers.
The new bi-directional data exchange significantly improves the service write-up process for dealers, and increases both customer engagement and retention by streamlining the process for ADAM Systems and Dealer-FX's mutual customers. Smoother, faster processes let service advisors develop greater trust with their customers, providing opportunities to review and sell additional services.
"The seamless data exchange between systems in dealerships is critical in today's market. ADAM and Dealer-FX now work together to streamline dealerships' fixed ops processes. The integration allows dealerships to focus on what matters most – their customers," says John Cowan, Director of Product Management for the ADAM DMS platform.
"We are excited about our newly enhanced integration and partnership with ADAM Systems, and our ability to expand important functionality to our mutual dealer customers," said James Lawton, CTO at Dealer-FX. "Seamless data integration is critical to enabling our platform to deliver an excellent experience for both customers and dealership employees."
"We are very excited to have access to the ADAM DMS and Dealer-FX integration. For us, it helps boost our efficiency – putting an end to the dreaded double entry component of inspections. We're looking forward to how this increase in efficiency will benefit our customers," says Brian Bice, General Manager/Dealer Principle of Bice Motors.
About ADAM Systems
ADAM Systems was founded in 1979, and specializes in dealer management solutions for automotive dealerships across North America and Puerto Rico. Acquired by Karmak, Inc. in 2016, ADAM Systems enables dealerships to manage their operations from one user-friendly portal with no long-term contracts and no proprietary equipment. ADAM Systems' Windows-based DMS is integrated with 18 major automotive OEMs, and manages the details that keep dealerships running smoothly. To learn more, visit http://www.adamdms.com.
About Dealer-FX
Dealer-FX is transforming how millions of consumers interact with automotive brands and their retailers. Their customer experience management platform uses advanced data analysis and mobile applications to deliver convenience, transparency and trust to customers, and increased efficiency, profitability, retention, and brand loyalty to OEMs and dealers.
Dealer-FX is the exclusive or preferred service technology provider for several OEMs in the U.S. and Canada, and has more than 2,000 dealership customers. Dealer-FX is based in Toronto and maintains an office in Rochester Hills, MI. For more information, please visit dealer-fx.com, or connect with them on Facebook, Twitter and LinkedIn.