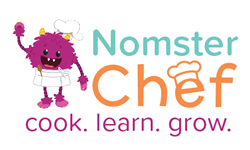 Parents say that Nomster Chef encourages quality family bonding time, and that it helps their kids learn to like new food. Kids love that the illustrated recipes are fun and made just for them. - Ashley Moulton
Brooklyn, N.Y. (PRWEB) September 28, 2017
Nomster Chef is launching their Kickstarter campaign on October 3, 2017, ending on November 2, 2017, with the goal of promoting children's healthy eating habits through cooking. The startup has a target of $10,000 for the campaign and will be using the proceeds to launch its digital recipe library. Nomster Chef's kid-friendly step-by-step illustrated recipes are hosted by the friendly Nate Nomster character and are designed to help kids age 2-12 feel like expert chefs. Nomster Chef will be offering different reward levels as incentives to support the campaign. The crowdfunding campaign page can be found at http://bit.ly/nomsterchefkickstarter and the Kickstarter Video can be viewed at http://bit.ly/nomsterkickstartervideo
Nomster Chef is on a mission to raise a healthier generation of kids and a happier generation of parents by helping families cook together. Nomster Chef was designed with two facts in mind: kids are more likely to eat food that they have helped to cook, and people form their lifelong eating habits in early childhood. If kids are involved in the kitchen, they are more likely to try and like healthy food. Cooking with Nomster Chef is the ultimate parenting hack: meal prep, family bonding, a healthy habit, and an educational experience all in one.
"I am so excited to launch the digital recipe library with funds from the Kickstarter and be able to bring Nomster Chef to more families," said Founder and CEO Ashley Moulton. "Test families have made over 150 meals with our prototype so far, and we've received awesome feedback. Parents say that Nomster Chef encourages quality family bonding time, and that it helps their kids learn to like new food. Kids love that the illustrated recipes are fun and made just for them," said Moulton.
About the company
Nomster Chef was created by Ashley Moulton, a children's media professional dedicated to creating a healthy future for children. Moulton, with previous experience at Nickelodeon and YouTube Kids, created the startup as a student in the Learning, Design and Technology program at Stanford's Graduate School of Education. Nomster Chef was one of 7 companies out of 300+ chosen to be in the 2016 Education Design Studio EdTech incubator at the University of Pennsylvania. The female-founded company is based in Brooklyn, NY and can be found at @NomsterChef on Facebook, Instagram, Twitter, and Pinterest. More information about the company can be found at http://www.nomsterchef.com.
Journalist note: The Nomster Chef Media Kit is available to journalists online at http://bit.ly/nomsterchefmediakit