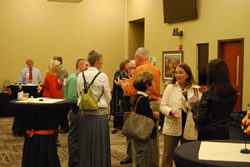 Mishawaka, IN (PRWEB) October 05, 2017
On October 12, Center for Hospice Care (CHC) will host the 6th Annual Okuyamba Fest to benefit their international partner, the Palliative Care Association of Uganda. The event begins at 5:30pm and takes place on CHC's Mishawaka campus. It offers attendees the opportunity to learn more about Ugandan culture while enjoying food and beverages. 
The event features a silent auction during which many hand-made Ugandan art and craft pieces will be made available. Proceeds will benefit CHC's "Road to Hope" program that supports children in sub-Saharan Africa who have been effectively orphaned after caring for their terminally ill parent or parents. Participants will also be able to sign up to sponsor a specific child in the "Road to Hope" program, to ensure this child has his or her basic needs met for food, clothing and education.
Registration for this special event is $25 a person or $45 a couple. Students with a valid Student ID can register for $5. For more information, please contact Hannah Birong at BirongH(at)cfhcare(dot)org or 574.243.3119, or visit foundationforhospice.org.
About Center for Hospice Care and the Hospice Foundation
Established in 1978, Center for Hospice Care is an independent, community-based, not-for-profit organization, improving the quality of living through hospice, home health, grief counseling, and community education. With offices in South Bend, Plymouth, Elkhart and Mishawaka, CHC serves Elkhart, Fulton, Kosciusko, LaGrange, LaPorte, Marshall, Porter, St. Joseph and Starke counties in Northern Indiana.
The Hospice Foundation is committed to supporting the work of CHC through community outreach and education, fundraising activities and other special events. The Foundation helps CHC keep its 37-year promise that no one eligible for hospice services will be turned away, regardless of their ability to pay.