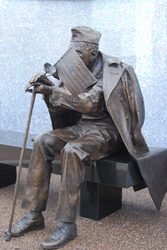 Mishawaka, IN (PRWEB) October 17, 2017
Following last year's dedication of its new Veterans Memorial, Center for Hospice Care (CHC) is pleased to host a special Veterans Tribute Ceremony on October 26. This event, which begins at 5:30 pm at CHC's Mishawaka campus, is an opportunity for veterans and families to honor their loved ones' service and sacrifice. As a "We Honor Veterans" Level 4 Partner, CHC is honored to create an opportunity to recognize veterans in such a meaningful and permanent way.
Medal of Honor Recipient James McCloughan, who received his medal earlier this year at a White House ceremony, will deliver remarks. Purchased memorial items, such as engraved bricks and plaques, will also be dedicated during the ceremony. A brief reception will follow.
For more information or to RSVP for this event, please contact Hannah Birong at 574.243.3119 or rsvp(at)foundationforhospice(dot)org.
To learn more about James McCloughan please visit http://www.army.mil/medalofhonor/mccloughan/.
About Center for Hospice Care and the Hospice Foundation
Established in 1978, Center for Hospice Care is an independent, community-based, not-for-profit organization, improving the quality of living through hospice, home health, grief counseling, and community education. With offices in South Bend, Plymouth, Elkhart and Mishawaka, CHC serves Elkhart, Fulton, Kosciusko, LaGrange, LaPorte, Marshall, St. Joseph and Starke counties in Northern Indiana.
The Hospice Foundation is committed to supporting the work of CHC through community outreach and education, fundraising activities and other special events. The Foundation helps CHC keep its 37-year promise that no one eligible for hospice services will be turned away, regardless of their ability to pay.