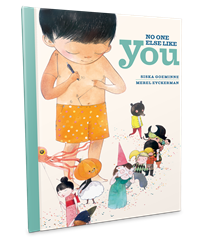 Louisville, Kentucky (PRWEB) September 28, 2017
In response to the lack of diversity found in children's books, No One Else like You by author Siska Goeminne and illustrator Merel Eyckerman helps children appreciate the beauty of our diverse world and their place in it. This creative picture book teaches children that they are wonderfully unique through intricate and amusing illustrations, helping them better understand difference.
The New York Times Book Review states, "No One Else like You written by Siska Goeminne and illustrated by Merel Eyckerman, doesn't follow a character, but approaches diversity from a distance. Some people are happy and some people are sad. People believe all kinds of things and practice all forms of religion. Everyone is different. Those differences, however, are what ultimately unite us: We're all different, and that's what we all have in common. The illustrations do a nice job of conveying the great diversity of people in the world."
Siska Goeminne is a full-time author of numerous books for children and youth. She lives in Leuven, Belgium.
Merel Eyckerman is a freelance illustrator whose work has appeared in children's books, magazines, and other educational publications. She lives in Belgium.
###