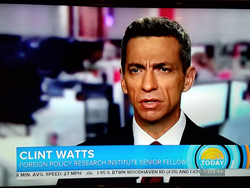 Philadelphia, PA (PRWEB) September 28, 2017
As cited by The Washington Post , Clint Watts and his colleagues were among the first to identify and track Russian bots operating through social media campaigns and networks in 2014. He testified about his findings before the Senate Select Committee on Intelligence on March 30, 2017 and his testimony is now a cornerstone of ongoing reporting on Russian bots. It continues to be cited frequently, most recently by CNN and Newsweek.
In August 2017, Watts and his colleagues launched Hamilton 68, a dashboard that tracks real time activity of over 600 monitored Twitter accounts linked to Russian influence operations.
The work of Watts and his colleagues served as a crucial part of WTOP's investigation on the origins of the Russian influence campaign during the election cycle.
Watts recently appeared in The New York Times on the spreading of false information on Facebook about an influx of refugees into Twin Falls, Idaho. He was also quoted in their story about Russian bots posing as fake Americans on Twitter and Facebook.
Watts was a key source for The Daily Beast on their breaking news story that Russians used Facebook to mobilize Trump supporters in at least 17 cities. He also contributed to their coverage of anti-immigrant rallies promoted through Facebook events.
Watts discussed the problematic nature of Twitter as a perfect haven for Russian bots with both Mother Jones and Foreign Policy and spoke to The Washington Post about Facebook ad sales from a Russian "troll farm" that used inflammatory rhetoric in posts on divisive topics.
Watts spoke on a cybersecurity panel at Harvard University, warning that the Russian digital influence during the 2016 election campaign may already be irreversible.
As a contributor for NBC, Watts continues to appear on programs across their various networks, such as Morning Joe. Most recently he discussed Russian bot Facebook ads on the TODAY Show this past week.
About the Foreign Policy Research Institute
FPRI is a non-profit, non-partisan think tank located in Center City Philadelphia. Its mission is to bring the insights of scholarship to bear on the foreign policy and national security challenges facing the United States. It seeks to educate the public, teach teachers, train students, and offer ideas to advance U.S. national interest based on a nonpartisan, geopolitical perspective that illuminates contemporary international affairs through the lens of history, geography and culture.
For more information about FPRI, please visit http://www.fpri.org or contact Eli Gilman at 215-732-3774 ext. 103.