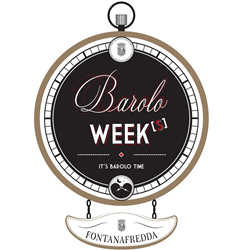 New York, NY (PRWEB) September 28, 2017
Fontanafredda, one of Italy's most prominent and historic Barolo producers, is pleased to announce the launch of the second annual Barolo Week[s] in October 2017 after a highly successful first edition in 2016. Barolo Week[s] is a global celebration of the iconic wine of the Piedmont region of Italy and aims to introduce a new generation of Americans to these internationally-renowned wines. Its series of activities is aimed at making Barolo less intimidating to younger wine enthusiasts who are interested in beginning to understand the world of fine wine.
"Barolo is a very rare wine," says Oscar Farinetti, President and Proprietor of Fontanafredda. "It's made in only eleven small townships in the Langhe area of Piedmont, with just 13 million bottles produced. That might sound like a lot, but considering the fact that the world's population numbers about eight billion people, there's not even enough for everyone to have just one glass! I am very pleased to announce the second edition of Barolo Week, which is an opportunity for wine lovers around the world to have access to and experience such a sought-after wine."
The lineup includes a by-the-glass program and Barolo tastings for trade, press, and public at the four locations of Eataly, the quintessential Italian culinary marketplace, in Chicago, Boston, and the two stores located in New York. In addition, Palm Bay International, Fontanafredda's US importer, will hold a series of exclusive trade lunches and winemaker dinners featuring Fontanafredda's most prestigious Barolo labels at locations such as Del Posto and Kingsley in New York, and other top restaurants around the country.
The main events open to the public will be Wine Wednesdays on October 18 and 25 and It's Barolo Time from October 16-27 at La Piazza and participating restaurants in Eataly Chicago, Boston, and NYC Flatiron. The Wine Wednesdays will give consumers a chance to taste Barolo Serralunga, a Fontanafredda cru wine, poured from a large format 3-liter bottle. During It's Barolo Time, glasses of a selection of Fontanafredda wines will be offered at special prices. Wine lovers will be able to taste classic Barolo as well as Contessa Rosa Rosé, a sparkling rosé containing a splash of Fontanafredda's 1967 Barolo that was recently named a Wine Enthusiast Editor's Choice, and a cocktail made with spiced Barolo Chinato, a traditional, rare, aromatized wine.
In addition to events open to the public, there will be a series of Masterclass seminars reserved for trade and press in each city, as well as exclusive winemaker dinners in cities throughout the US during the fall held in conjunction with Palm Bay. The Masterclasses will focus not only on Barolo, but on all of Fontanafredda's Nebbiolo varietal wines. Of special note at these classes will be Fontanafredda's newest Barolo "Proprietà in Fontanafredda" 2013, made from the Fontanafredda cru in Serralunga d'Alba that lies entirely within estate property. An additional seminar will be held at Eataly NYC Flatiron in collaboration with Nomacorc, one of the largest brands of alternative wine closures. During the "Taste the Difference" seminar, conducted by Sheri Morano, Master of Wine, the same wine will be tasted from three bottles with three different Nomacorc closures, allowing participants to explore the crucial role that bottle closure has in oxygen management.
Fontanafredda Barolo will also be a highlight of the 8th edition of the Italian food convention Identità Golose, where the winery will present a delicious preview of Barolo Week[s] during the convention's Italian-themed activities from October 10 to 12. As the event's main sponsor, Fontanafredda wines will be poured at all events and classes. In addition, on October 11 from 12-12:45pm, Fontanafredda will be among a number of prestigious Italian producers exhibiting their products at the Foodiversità area of Eataly NYC Downtown and will pour Barolo Serralunga 2013 from a double magnum; and trade and public can taste four of Fontanafredda's most iconic Barolos on October 12 at Eataly NYC Flatiron from 6-7:30pm paired with traditional Piedmontese antipasto dishes. Attendees will get a taste of the Langhe territory in Piedmont where Barolo is made, a mini-voyage told through one of the region's most renowned wine producers.
The main calendar of the Barolo Week[s] events is as follows:
Oct. 11: Tasting for Identità Golose at Foodiversità area at Eataly NYC Downtown, invite only
Oct. 12: "Barolo & Beyond: A Taste through the UNESCO Hills of Piedmont" tasting for trade and public during Identità Golose at La Scuola, Eataly NYC Flatiron
Oct. 16: Barolo Masterclass for press and trade at Eataly Chicago
Oct. 18: Wine Wednesday at Eataly NYC Flatiron and Downtown, Eataly Boston, and Eataly Chicago, open to the public
Oct. 19: Barolo Masterclass for press and trade at Eataly Boston
Oct. 23: Barolo Masterclass and Nomacorc Taste the Difference Seminar for press and trade at Eataly NYC Flatiron
Oct. 25: Wine Wednesday at Eataly NYC Flatiron, Vino e Grano at Eataly NYC Downtown, Eataly Boston, and Eataly Chicago, open to the public
Oct. 16-27, Mon-Fri: It's Barolo Time at La Piazza and participating restaurants in Eataly NYC Flatiron, Eataly Boston, and Eataly Chicago, open to the public
Stay tuned for more details about the many exciting celebrations and initiatives of Barolo Week[s]. For more information, please contact Diana Zahuranec (dzahuranec@colangelopr.com) with Colangelo & Partners. To stay updated, follow Fontanafredda on Facebook (@fontanafreddawines), Instagram (@fontanafreddawines), Twitter (@fontanafredda_), and across all channels at #BaroloWeeks.
About Fontanafredda: For over 150 years, Fontanafredda has been producing outstanding Barolo from its winery in Serralunga d'Alba, in the heart of the Barolo region of Northwest Italy. Founded in 1858 by Vittorio Emanuele II, the first King of Italy, Fontanafredda has since been a favorite of Italy's nobility and wine lovers alike. Today, the winery is owned by Oscar Farinetti, the founder of Eataly, and the wines imported to the U.S. include the Vigna La Rosa Barolo, Serralunga d'Alba Barolo and Barolo Silver Line, among others. In the United States, Fontanafredda is imported by Palm Bay International. For more information, please visit http://www.fontanafredda.it/web/en/.