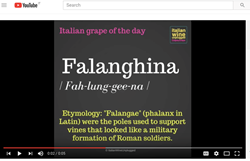 Wine lovers from China and America have always struggled to pronounce Italian grape names and I always thought about how wonderful it would be to hear the proper pronunciation from a native speaker… so this is why the Italian Grape of the Day campaign came about. Stevie Kim
(PRWEB) September 29, 2017
The "Italian Grape of the Day" initiative started a couple of weeks ago as a social media campaign on Facebook, Twitter, LinkedIn, and Instagram, with one pronunciation video per day posted on all those outlets. The new dedicated YouTube channel provides a platform where the videos can be accessed simultaneously and also works as an online archive where to store educational tools that will be useful for students of Italian wine worldwide.
The "Italian Grape of the Day" campaign aligns with the educational values of the wider Italian Wine Unplugged mission. Designed to be the textbook for the intermediate-level Italian Wine Maestro course launching in Vancouver on October 25th, the ebook maps Italian wine from the perspective of its hundreds of grape varieties. The 591 officially recognized indigenous grape varieties make Italy the most biodiverse country in terms of viticulture—with Italy being the country with the highest number of native grapes spread within its national borders. This richness, however, often causes some difficulties in the marketing of Italian wines for end consumers; it also adds some confusion among educators and professionals who work with Italian wine. In his praise for Italian Wine Unplugged, even the first Chinese Master of Sommelier Yang Lu (also Corporate Director of Wine at Shangri-La International Hotel Management Group) admits to the intricacies of the Italian wine landscape: "Italian wines have always been the Achilles heel for many wine professionals—myself included." Adding to the challenge, moreover, are Italian long polysyllabic and funny-sounding grape names that may constitute another obstacle for international wine professionals with little or no previous knowledge of the Italian language. Hence, by explaining Italian grapes in a schematic and user-friendly way, both the "Grape of the Day" pronunciation tutorial and the reference book Italian Wine Unplugged complement each other in putting some order in the chaotic, yet fascinating, world of Italian wine.
Stevie Kim is very positive about the usefulness of the pronunciation initiative: "I've been traveling to countries like America where Italian wine is quite mature and better known compared to countries like China, where it is completely unknown. Winelovers from both areas have always struggled to pronounce Italian grape names properly and I always thought about how wonderful it would be to hear the proper pronunciation from a native speaker. So, with the Italian Wine Unplugged YouTube initiative, we didn't just want to unveil native grapes but also teach how to pronounce them, one grape a day. The videos are free and available to everybody. First, we will introduce the 120 grapes featured in the Must-know section of our ebook and after that there will be a lot more to come in the Lesser-known section! With one grape a day, in a year time, students and professionals will learn the entire category of the native grapes of Italy. With the YouTube archive they will of course be able to go back and listen again, if they have any doubt. I am sure this will benefit both Chinese and Americans alike and it will also help me brush up on Italian pronunciation!" Wine lovers interested in improving their pronunciation of Italian grapes can subscribe to the YouTube channel for free by clicking on this link.
Alongside the grape pronunciation initiative, the editorial team at Italian Wine Unplugged is now working on the definitive version of the publication, which will be released in December 2017 in both paperback and ebook formats. This crowd-editing phase is now in full swing and feedback and suggestions can be emailed at info(at)italianwineunplugged(dot)com.