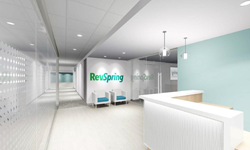 Livonia, Mich. (PRWEB) September 29, 2017
It is with great pleasure that RevSpring announces the expansion of its administrative and technical offices. The newly remodeled company headquarters includes additional office and conference room space to facilitate even greater efficiency and collaboration to better serve our clients.
Just a few miles from the previous Wixom location, all staff is transitioning to the new location at:
38705 Seven Mile Road
Suite 450
Livonia, MI 48152
RevSpring's primary phone number will remain the same at 248.567.7300.
Simultaneously, the technology team will be opening a new office in Ann Arbor, MI. Located in the heart of an established and rapidly growing technology hub, this office will provide even greater access to leading technologists as we continue to build upon RevSpring omni-channel communication and payments platforms.
The technology office address is:
2211 Old Earhart Road
Ann Arbor, MI 48105
"RevSpring continues to lead the consumer communications and payment industry," said John Carson, chief operating officer. "We are excited to provide even greater value and assistance to our clients using our expanded facilities and continuing to develop leading-edge technology."
About RevSpring
RevSpring is a high-growth technology services organization that provides intelligent communications and payment solutions to over 2,000 of the leading accounts receivables management, credit grantors, healthcare providers, and healthcare technology companies throughout North America. Through its proprietary technology, analytics and workflow tools, RevSpring enables its customers to deliver over one billion personalized financial communications through print, email, SMS, voice and web channels. These communications facilitate accelerated payments through multiple channels, notably web and IVR, to drive valuable consumer/patient interactions. RevSpring's strategy and payment technology significantly improves consumer satisfaction, responsiveness, self-service and cash collection rates to best-in-class levels.
Contact:
Heather Taylor
765.730.6632
htaylor(at)revspringinc.com