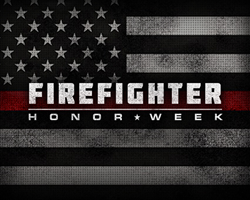 San Diego, CA (PRWEB) October 02, 2017
GovX, the online shopping site exclusively for current and former military and first responders, announced October 2 through 8 as Firefighter Honor Week, to recognize and thank members of America's federal and local fire services. The event coincides with the Memorial Weekend on October 7 and 8, sponsored by the National Fallen Firefighters Foundation, the nonprofit organization which was also selected as GovX's October Mission Giveback donation recipient.
Over 90 brands are on sale during the event, which is available to all GovX members. As of September 2017, there are over 145,000 GovX members with firefighting backgrounds, ranging from full-time and volunteer firefighters to retirees. GovX firefighting members come from crews all over the country, from local fire houses to wildland crews and everything in between.
GovX also announced a contest to award a single fire house with a $2,500 shopping spree. Crews are invited to enter the contest by including their contact information as well as a short-answer response arguing why their fire house should be chosen as the winner. GovX will select the winning fire house at the end of the month and award the $2,500 in the form of GovX store credit.
Over 90 GovX brands joined the week-long sale, offering discounts on their products, many of which are popular in the firefighter communities. Such favorites include SPY eyewear, 5.11 Tactical gear and apparel, Benchmade knives, Under Armour athletic attire, PROPPER professional wear, and firearm accessories from Vortex Optics, just to name a few. Every deal included in the Firefighter Honor Week sale is available to all members, not just firefighters.
GovX orders from the entire month of October will also benefit the National Fallen Firefighters Foundation. The Foundation's mission is to honor and remember the fallen heroes of America's fire services, and to provide resources to assist their family members in rebuilding their lives in the aftermath of tragedy. The NFFF also works within the fire service to reduce firefighter death, sponsoring research of the circumstances that lead to on-the-job deaths, and promoting health and safety within the fire service community.
Firefighter Honor Week begins Monday, October 2 for all GovX members. Registration for GovX is free for all Americans with military, law enforcement, firefighting, or government service backgrounds. Registration is available at http://www.govx.com.