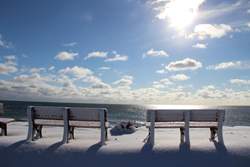 It's such a festive time to enjoy the allure of Cape Cod
Centerville, MA (PRWEB) October 03, 2017
Craigville Retreat Center, beautifully situated on a bluff overlooking Nantucket Sound, has announced a holiday special for the Thanksgiving and Christmas holidays.
"We would love to host families and friends for the Thanksgiving and Christmas holiday weeks here in Craigville. It's such a festive time to enjoy the allure of Cape Cod," says Site Director Cynthia Diggs. "Come for 2 nights or a whole week!"
Five cottages are available at a discounted rate for these two holidays. Diggs says they will welcome guests with a basket of baked goodies freshly made in the Craigville Retreat kitchen.
All the cottages have multiple bedrooms, a living room, a dining area, and a kitchen where guests can create their own meals.
Craigville Retreat is a historic retreat setting and is managed by United Camps, Conferences and Retreats, a non-profit camp and retreat management cooperative.
Visit Craigville Retreat on Facebook!
For further information or to Reserve, call today at 1.800.678.5102
For a free tour, call Craigville Retreat at 508.775.1265
http://www.UCCR.ORG | Reservations(at)uccr.org