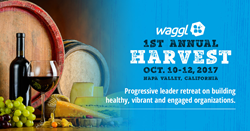 "Waggl Harvest will explore many of the most urgent challenges that business leaders are facing today," said Michael Papay, Co-founder and CEO, Waggl.
Sausalito, CA (PRWEB) October 02, 2017
Waggl, the most human way for organizations to crowdsource feedback and align on action, today announced open registration to the public for its 1st annual Harvest Conference, to be held in the Napa Valley October 10-12, 2017.
"Waggl Harvest will explore many of the most urgent challenges that business leaders are facing today," said Michael Papay, Co-founder and CEO, Waggl. "We are operating in an era of digital disruption, and the rules of engagement are changing as we go. Effective leaders need to learn how to truly motivate their people and create alignment in the midst of shifting priorities. Organizations that cultivate trust, inclusion, transparency and agility will hold the key to success."
The Waggl Harvest Conference will provide a rare opportunity to network with an extraordinary group of business leaders from a wide variety of industries who share a commitment to elevating the talent and value of people. Among other important topics, the event will explore:

The Connected Organization of Tomorrow: How agile exchange of ideas and insights will drive new people strategies
Building High-Trust Organizations: Mission critical secrets for team success
Using Employee Voice to Drive Trust, Engagement and Leader Action
Inspired by Bees: Biomimicry for organizational development
The Case for Transparency: Inspiring continuous engagement across the organization
Confirmed speakers for Waggl Harvest include:

Steve Cadigan, Former Vice President Talent at LinkedIn, Co-founder and Head of Digital Transformation at ISDI Digital University
Dan Denison, Professor of Organization and Management at IMD Business School in Lausanne, Switzerland and Chairman and founding partner of Denison Consulting.
George Dom, Former Commanding Officer of the Blue Angels, Top Gun Instructor, and business consultant to Fortune 500 corporations
Kris Downing, Vice President Commercialization and Innovation at Center for Creative Leadership
Matt Gosney, Ed.D. Vice President of Organizational Development at UCHealth
Craig Bardenheuer, former Vice President of Worldwide Business Innovation and Growth at Juniper Networks
Courtney Harrison, Former VP and Global HR Business Partner for Juniper Networks, Senior Faculty for Center of Creative Leadership, and Chief HR and Events Services of US Olympics, current Principal at Medius Advisory Group
Sara Holtz, Senior Manager of Internal Communications at Ellie Mae
Alicia Mandel, former CLO for Apollo Education Group, CHRO of US Olympic Committee, and Director of Employee Engagement of American Express, current Principal at Medius Advisory Group
Mercedes Martin, international consultant and conference speaker, and pioneer in introducing leadership transformation and global diversity programs
Tamsin Woolley-Barker, PhD. Evolutionary Biologist, Primatologist, and Bio-Inspired Innovation Consultant
Steve Young, PhD. Senior Research Scientist, Global Research and Evaluation, at Center for Creative Leadership
To register for Harvest, please visit https://www.wagglharvest.com/.
About Waggl
Waggl is the most human way for organizations to crowdsource feedback. Named after the dance that bees do in a hive to transmit important information very quickly, Waggl lives at the intersection of two organizational realities: companies want an engaged workforce and employees want to know that their opinions count. Waggl goes beyond the traditional survey by offering an extremely easy way to listen to many voices at once within an organization for the purpose of making it better. Waggl's real-time listening platform creates a transparent, authentic two-way dialogue that gives people a voice, distills insights, and unites organizations through purpose. With a highly seasoned management team and a client roster including industry leaders, Waggl is an innovative industry leader helping companies of all sizes to succeed by building a listening culture. For more information, please visit: http://www.waggl.com/.
# # #