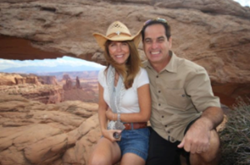 Teeming Vacation Rentals ranked No. 549 nationwide and ranked No. 5 in Orlando in the Inc. Magazine 5000. The Orlando-based startup achieved an astonishing three-year growth rate of 822 percent.
Orlando, FL (PRWEB) September 29, 2017
Orlando's Teeming Vacation Rentals (TeemingVR.com) is thrilled to announce their inclusion in the 2017 edition of the prestigious Inc. Magazine's 5000 List of the nation's fastest-growing private companies. Inc. 5000 is a highly-respected publication in the business community, and TeemingVR is incredibly honored to be included on this esteemed list of innovative leaders in business nationwide. The entire TeemingVR "teem" is extremely proud of this accomplishment.
On its 36th annual list, the successful new Orlando startup ranked No. 549 nationwide and ranked No. 5 in Orlando. While the average company on the Inc. 5000 list achieved a mind-boggling three-year average growth of 481 percent, TeemingVR achieved an astonishing three-year growth rate of 822 percent. As a vacation rental property management company, they ranked No. 7 in the country for the Travel & Hospitality Industry category. The Inc. 5000's aggregate revenue is $206 billion, and the companies on the list collectively generated 619,500 jobs over the past three years. Complete results of the Inc. 5000, including company profiles and an interactive database that can be sorted by industry, state, city, and other criteria, can be found at http://www.inc.com/inc5000.
The Inc. 5000 list began in 1982 as the Inc. 500 List, expanding to 5000 in 2007. Its purpose is to bring attention to the most innovative and successful private companies across the United States. The Inc. 5000 List is a distinguished editorial award, based on the overall revenue growth of a company over a three-year period. This year, on average, companies included on the list have grown six-fold since 2013, while the overall economy grew just 6.7 percent during the same time period.
This accomplishment is especially exciting for TeemingVR, as it highlights their commitment both as a company and individually to continual growth & improvement, as well as excellence within the Travel & Hospitality Industry. This achievement is a direct recognition of TeemingVR's exceptional commitment to superior customer service, constant innovation, strategic marketing and dependability that has not only kept their vacationing guests & property owners satisfied but also achieved phenomenal results for their owners, allowing them to continually attract new business.
As an Inc. 5000 honoree, TeemingVR is in good company, among corporate giants such as Microsoft, Dell, GoPro, Domino's Pizza, Pandora, Under Armour, Timberland, LinkedIn, Yelp, Zappos, Zillow, and many other well-known names gained their first national exposure as honorees of the Inc. 5000 and went on to become household names. TeemingVR co-founders and owners, Jeff and Gina Paglialonga, will attend the 2017 Inc. 5000 Conference & Awards Gala in Palm Desert, Calif. in October 2017. The conference will feature speakers such as Daymond John (Shark Tank), Michael Dubin (Dollar Shave Club), and Brené Brown (researcher and author).
"We are thrilled to be recognized as a nationwide business leader and one of the fastest-growing companies in America," says Jeff Paglialonga. "It is truly humbling to be included among the list of other impressive honorees and is a powerful testament to all of our employees who work so diligently. We aim to continually build on this accomplishment and optimize our relational, hands-on approach to vacation rental property management with our 'By Owners for Owners' and 'By Travelers for Travelers' mentality for many years to come."
"We are incredibly proud of the entire TeemingVR 'teem' for this recognition," continues Gina Paglialonga. "Our staff understands the importance not only of satisfying and serving our vacation rental property owners, but the significance of providing top-notch customer service to our vacationing guests. We often remind them of Henry Ford's quote: 'It is not the employer who pays the wages. Employers only handle the money. It is the customer (in our case the owners & the guests) who pays the wages.'"
"We are seeing a tremendous rise in the rental market," added Jeff Paglialonga. "Our owners are benefitting financially from it."
TeemingVR's growth has not subsided, as their year-to-date revenue ending July 31 was up 37 percent from 2016. They are proving they are filling a niche in the market, not only for visitors, but for vacation rental property owners as well by often doubling their prior rental revenue.
TeemingVR has also launched a new associated travel business, Teeming River Cruises, a new European Cruise line. Their inaugural cruise was completed last month and was a tremendous success. More information regarding this new venture can be found at http://www.TeemingRiverCruises.com.
Headquartered in Winter Park, Fl. (i.e. a suburb of Orlando), TeemingVR is taking a distinctive approach to delivering vacation rental property management services. They opted against the industry standard (on-site/area office with nine-to-five business hours), and chose instead to put their resources into marketing and managing properties. The company allocates over $200,000 annually to marketing the properties they manage. They also employ an experienced remote staff, all of which are familiar with the local destinations and the rental properties. TeemingVR has equipped their staff with the latest technology to create a highly effective virtual office. This strategy has resulted in a system that handles over 150,000 guests' inquiries annually, as well as over 35,000 phone calls.
Intent on delivering unprecedented revenue to owners under their management, TeemingVR offers a variety of customized services to assist owners in updating their vacation properties to capitalize their rental income, including complimentary walk-throughs and consultations with owners Jeff and Gina; purchasing and installing new flat screen TVs, ceiling fans, light fixtures, furniture, décor, and equipping each home with all new high-quality linens. In addition, they have rolled up their sleeves and personally assisted more than 100 St. Pete/Clearwater owners update and redecorate their properties in the last three years. With a background in both marketing and custom home renovation, Jeff and Gina understand that appearance matters when it comes to internet marketing and they know how minor updates can make a major difference.
"Largely, travelers are going to pick one property over another based on how it looks," says Gina Paglialonga. "Does it catch their eye? Our overriding desire is to provide phenomenal results to owners and we know which property updates will make the most impact. This allows us to better position our owners to generate more revenue as well as more satisfied guests, which in turn spells both more guests and repeat guests."
Jeff and Gina Paglialonga are available for an immediate interview about this incredible accomplishment.
Jeff and Gina Paglialonga founded TeemingVR as condo owners and avid travelers themselves. TeemingVR's motto as vacation rental managers is "By Owners for Owners." They knew first hand that there needed to be a better way to increase rental revenue, while also providing great service to owners and guests. Jeff's background as the top salesman for one of the largest publicly traded insurance companies, combined with his experience having launched real estate and renovation companies and numerous marketing efforts, all came together in one package in the founding of TeemingVR. By combining those skills, as well as his natural tendency to think boldly and break through barriers, Jeff and Gina charted a new course in the property management industry and are providing innovative solutions for owners.
About Teeming Vacation Rentals:
Teeming Vacation Rentals was founded in the spring of 2013 by Jeff and Gina Paglialonga. Jeff and Gina set their sights on the St. Pete Beach Clearwater area, realizing the market had a need for sophisticated, technologically based management, and decided to launch what is quickly becoming one of the fastest growing companies in the sector. They have since expanded to Panama City Beach and to the St Augustine/Flagler Beach areas. Their company was founded with the goal of building long-term relationships with both quests and property owners by being committed to excellence, and by continually assessing their processes and strategies. These partners are active members of the Vacation Rental Management Association. Additionally, they have released an eBook titled, "Revive Your Property, Recharge Your Revenue."