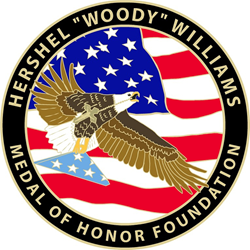 The Hershel "Woody" Williams Medal of Honor Foundation is spearheading a national effort to recognize and honor Gold Star Families by establishing a Gold Star Families Memorial Monument in all 50 states and the District - we must not forget their sacrifices!" Hershel "Woody" Williams
Louisville, Kentucky (PRWEB) September 20, 2017
As the Hershel "Woody" Williams Medal of Honor Foundation nears its fourth anniversary as a 501(c)3 charitable organization, they continue to expand their reach far beyond what had originally been conceived by their 93 year old founder, Hershel "Woody" Williams. Williams is the last living Medal of Honor recipient from the Pacific War, World War II.
From his early life experiences delivering death notices via Western Union telegrams while working as a cab driver, to witnessing the enduring sacrifice and grieving of the Gold Star Families of his fallen comrades, Hershel "Woody" Williams saw the need to recognize and honor Gold Star Families and their fallen Heroes. This was the driving force behind him and his family establishing the Hershel "Woody" Williams Medal of Honor Foundation.
The Foundation's mission began with a single monument in Williams' home state of West Virginia. The first of its kind in the nation, the Gold Star Families Memorial Monument would find its home in the Donel C. Kinnard Memorial State Veterans Cemetery. Once that monument was dedicated, a new mission became clear to Woody and those at the Hershel "Woody" Williams Medal of Honor Foundation, to establish these monuments in as many communities as possible in all 50 states and the District of Columbia. Their mission has grown to include providing scholarships for Gold Star Children as well as hosting and sponsoring outreach programs and events for Gold Star Families.
September marks a Monumental month in the organization's history as they will dedicate four Gold Star Families Memorial Monuments in Michigan, Nebraska, Texas, and Tennessee as well as breaking ground on three new Monuments in Hawaii, Maryland, and Ohio.
By the anniversary of the Hershel "Woody" Williams Medal of Honor Foundation anniversary and Woody's 94th birthday on October 2, 2017, the status of the Gold Star Families Memorial Monument project will be:
Monuments Dedicated:
25
Monuments in Progress:
53
States Represented:
36
To learn more about the Hershel "Woody" Williams Medal of Honor Foundation and how you can donate and get involved, please visit:
http://www.hwwmohf.org