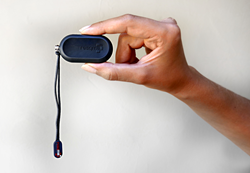 We developed defendme® to help people feel and be safer, especially women.
Santa Barbara, CA. (PRWEB) October 06, 2017
The new personal safety alarm defendme® by resqme, Inc. is perfect to quickly attract attention in an emergency situation. The sleek alarm features a piercing 120dB siren, equivalent to the sound of a chain saw. It can be heard up to 300 feet away, which is the length of a football field.
resqme, Inc.'s President, Laurent Colasse, said: "we developed defendme to help people feel and be safer, especially women": reports show that 65% of women shared that they have been harassed on the street, in situations such as using public transportation, commuting, exercising or walking alone. The alarm is ideal to scare away any attacker. defendme is also a must-have for students, active people, isolated workers and elderly.
This new personal alarm has a modern design and a no slip and pleasing-to-the-touch grip. Being the size of a lighter, it can be attached to any strap on a backpack, purse, or even a belt-loop for easy access. The alarm is safer to use than pepper spray and is legal to carry in all 50 states. It is activated by pulling the lanyard and will last 30 minutes or until turned off. Stay safe with defendme when seconds count…
Retail price: $9.95.
Available on resqme.com.