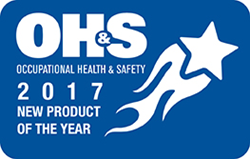 Milwaukee, Wis. (PRWEB) October 03, 2017
Brady (NYSE:BRC), a global leader in industrial and safety printing systems and solutions, announced today that the PaintStripe Floor Marking Stencils have won new product of the year from Occupational Health & Safety Magazine (OH&S) in the "Sign & Identification" category. PaintStripe Stencils allow users to complete professional-looking floor marking projects without hiring an outside vendor, or dealing with hard-to-use masking tape.
"Floor marking is an important aspect of a safe and compliant workplace, but completing a floor marking project can be draining on time and money. PaintStripe Floor Marking Stencils make the process easy and efficient," said Anisia Peterman, regional product manager at Brady. "Winning this award for this product shows that with innovative products, these necessary safety projects don't have to be difficult or time consuming in order to provide a safe workplace for employees."
PaintStripe stencils allow users to easily layout both sides of a floor marking line at one time using one roll of product. These stencils also include marking lines for easy length measurement, and cutting guides to complete crisp and even 90° corners.
The OH&S Product of the Year contest attracted entries in 21 award categories, with an independent panel of three highly qualified judges choosing the winners. To be eligible for the 2017 awards, products must have been introduced to the market between July 5, 2016, and July 4, 2017. Winners will be featured in the December 2017 issue of OH&S Magazine.
For More Information
For the complete product offering from Brady, visit BradyID.com.
About Brady Corporation:
Brady Corporation is an international manufacturer and marketer of complete solutions that identify and protect people, products and places. Brady's products help customers increase safety, security, productivity and performance and include high-performance labels, signs, safety devices, printing systems and software. Founded in 1914, the Company has a diverse customer base in electronics, telecommunications, manufacturing, electrical, construction, medical, aerospace and a variety of other industries. Brady is headquartered in Milwaukee, Wisconsin and as of July 31, 2017, employed approximately 6,300 people in its worldwide businesses. Brady's fiscal 2017 sales were approximately $1.11 billion. Brady stock trades on the New York Stock Exchange under the symbol BRC. More information is available on the Internet at http://www.bradycorp.com.
# # #