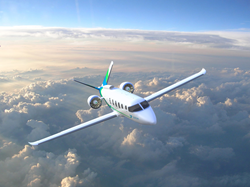 "This aircraft is going to transform how we live and work," said founder and Aero Chief Engineer Matt Knapp.
Seattle, WA (PRWEB) October 05, 2017
Zunum Aero, a pioneer in electric aviation, revealed details on its launch aircraft today. The hybrid-to-electric aircraft, the first of a planned family of regional platforms, seats up to 12 passengers and will be available for delivery in 2022.
Zunum aircraft are designed to address a vast gap in transport infrastructure over regional ranges up to 1,000 miles, where few good options currently exist. Regional flights are limited, costs are high, and door-to-door travel times haven't improved in decades. Additionally, high speed rail is capital-intensive and only viable in a limited number of high-density corridors.
Zunum aircraft bring to the forefront an opportunity to refresh the roughly $1 trillion stock of aircraft currently serving regional routes. The Zunum aircraft offers operating economics comparable to those of airliners, in a mid-sized aircraft designed for quiet, green and fast door-to-door service to tens of thousands of secondary airports around the world. Notably, Zunum has disclosed that its range-optimized aircraft features:

Direct costs per seat mile of 8 cents, or $250 per hour for the aircraft
Maximum cruise speed of 340 miles per hour
Take-off distance of 2,200 feet
Hybrid-electric range of 700 miles
80% lower emissions and noise
"Zunum is reinvigorating the regional market with a solution that's both innovative and realistic," said Logan Jones, Managing Director at Boeing HorizonX, a Zunum investor. "We see them as a leader in electric aviation, building on proven technologies, with a mature technical and commercial team."
Zunum Aero also released a video simulation of its aircraft in flight, as well as an overview of its underlying technologies:

Hybrid-electric series powertrain, which is battery-technology agnostic, future-proofed for the life of the airframe, and engineered for a seamless transition from hybrid to to fully electric power
Quiet electric propulsors with variable pitch fans, enabling a 40% reduction in runway needs, 75% drop in community noise, and fine thrust control
Wing-integrated batteries that enable tailoring of onboard battery capacity and quick swap or recharge at airports
Optimization and control platform that provides real-time flight energy optimization, power management, fault detection and recovery
"We believe that the regional transportation industry is ripe for disruption and we're excited to support Zunum and its efforts to help introduce a new era of aviation," said Bonny Simi, President of JetBlue Technology Ventures, another Zunum investor.
The Zunum aircraft could light up a network of over 5,000 under-utilized airports in the U.S. alone, delivering significantly lower door-to-door times and emissions, at fares below commercial today. For instance:

Travel from the Boston area to the Washington, DC area could be as quick as 2 hours, 30 minutes door-to-door (versus 4 hours, 50 minutes today) based on hybrid-electric flights between Beverly, Hanscomb or Norwood and College Park, Washington Executive, Manassas or Leesburg, for an average fare of $140 one way -- 33% below commercial today.
San Jose to the Los Angeles area would take 2 hours, 15 minutes (versus 4 hours, 40 minutes currently required), departing from Palo Alto, San Carlos, Hayward or Reid Hillview, and arriving at Santa Monica, Hawthorne, Burbank or El Monte, for an average fare of $120 one-way -- also well below commercial today.
In effect, the Zunum aircraft offers a fast, convenient and comfortable travel experience much like business aviation at fares below commercial. Door-to-door time improvements and fare reduction on routes with less traffic than those sampled above is even greater.
Zunum Aero is moving towards flight tests in 2019, scaling its technical bench, opening a second development center in the Chicago area, and starting ground tests. Recent hires include senior technologists with leadership roles across power electronics, electric motors and propulsors on the most advanced aircraft and engines today, such as the Boeing 787, the Lockheed Martin F35, the Rolls-Royce Ultrafan.
"This aircraft is going to transform how we live and work," said founder and Aero Chief Engineer Matt Knapp. "We've pushed ourselves to challenge conventional wisdom and the limits of engineering to deliver an aircraft of which we are extremely proud -- one that offers efficiency and performance without compromise."
About Zunum Aero
Zunum Aero is building a family of commercial hybrid-to-electric aircraft designed for regional transit, and powered by quiet range-optimized powertrain and propulsion technologies. The company's vision is to develop 1,000-mile electric air networks to bring fast and affordable travel to every community. Founded in 2013, Zunum Aero is funded by Boeing HorizonX, Jet Blue Technology Ventures, and the State of Washington Clean Energy Fund.
Media inquires:
Meaghan Shields
Zunum Aero
meaghan(at)zunum.aero