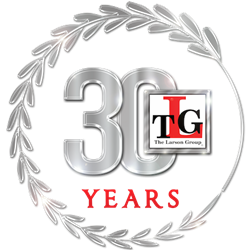 With an eye on the future, yet greatly rooted to its traditions, The Larson Group (TLG) Peterbilt celebrates its 30th year in business this month.
Springfield, Mo. (PRWEB) September 29, 2017
With an eye on the future, yet greatly rooted to its traditions, The Larson Group (TLG) Peterbilt celebrates its 30th year in business this month.
Founded in September of 1987, TLG has grown from a small, regional group to one of the largest family-owned Peterbilt dealer groups in the nation. The organization's 30 years of innovation and steady growth is testament to its commitment to service excellence.
"We have achieved this milestone through the hard work and dedication of our employees, and our culture of customer service that exists throughout all of TLG," President and CEO Glenn Larson remarked. "We have dedicated ourselves to 30 years of service efficiencies and Peterbilt knowledge to provide our customers with nothing short of excellence."
Over the last three decades, the Larson's unparalleled dedication to the company, TLG has spanned to nearly 1,000 employees and a total of 20 locations across the Midwest and southeastern United States. It has also grown in key customer service aspects that have earned the organization many Peterbilt and Paccar awards and honors, including 37 Platinum Ovals, six Best in Class awards, and six North American Dealer of the Year awards.
With numerous achievements to look back on, the Larson family now looks toward the future.
"For 30 years, TLG has provided exceptional service to help our customers meet their needs in an ever-changing industry," said Glenn. "Throughout 2017 and 2018, we will be taking a look at where we started, what we have achieved, and what our plans are for everything to come. With our steady growth over time and commitment to betterment, we anticipate a continuing trend of prosperity for the next three decades, too."
In honor of its pearl anniversary, TLG will commemorate the occasion with a number of customer and internal promotional events and activities throughout the next twelve months. To kick off its celebration, TLG has published a special webpage that goes in-depth with the history of the organization through an interactive timeline, video testimonials and photo archives.
Page visitors will also have the opportunity to submit their story about their experience with The Larson Group, whether it be from a customer standpoint or an employee's.
"We encourage all our employees, new customers and customers we've done business with for the 30 years we've been operating to share their personal stories about The Larson Group," said Chief Operating Officer Kory Larson. "Stories leave a lasting mark on TLG's evolving growth and success. We want you to have the chance to tell your story, and help us create the next 30 years."
History
Glenn and his father, Claire, took interest in ownership of a dealership and met with Peterbilt Motors Company headquarters in Denton, Texas throughout the summer of 1987. They discovered Peterbilt of Springfield was available, and a Midwest family already, they headed south and took charge of the dealership by September.
After a few years Peterbilt of Springfield was ready to expand. The family gained interest in the Joplin, Missouri area., and in 1989, TLG's first satellite store was open for business, nearly 80 miles west of Springfield.
By the 1990s, the trucking industry was booming and with the right strategizing, the Larsons went from selling 200 trucks in a single year to more than 400. Without hesitation, Kory and Kyle Larson, the youngest of the six brothers, headed to the Ozarks to be part of the family business.
The Larsons acquired another dealership in 1991 in O'Fallon, Missouri, which Kyle ran and is still involved with today. The facility was relocated in 1994.
By 1995, the Larsons and Mid-America Peterbilt earned their first national award from Peterbilt Motors Company. Further demonstrating their exceptional dedication to service, the dealership won an additional North American Dealer of the Year award in 2003, as well as several other awards from Paccar and Peterbilt.
The Larsons continued to receive awards, which made a positive impact on the reputation of TLG. As additional dealerships were constructed and organically acquired, Glenn and his brothers worked side-by-side with employees to emphasize the importance of industry-leading customer service. And today, TLG has a total of 20 locations throughout Arkansas, Illinois, Indiana, Kentucky, Missouri, North Carolina, South Carolina and Ohio.
###
About The Larson Group Peterbilt
The Larson Group has been providing quality Peterbilt products and exceptional service across the Midwest and southeastern United States for 30 years. TLG has built teams of qualified, highly-trained professionals to provide customers with the best service for their commercial transportation needs at 18 Peterbilt facilities located across Arkansas, Illinois, Indiana, Kentucky, Missouri, North Carolina, South Carolina and Ohio.
For more information about The Larson Group's Peterbilt parts inventory or to experience its exemplary customer service first-hand, call 417.865.5355, visit TLGtrucks.com or contact Marketing Coordinator Stephanie London at slondon(at)tlgtrucks(dot)com.