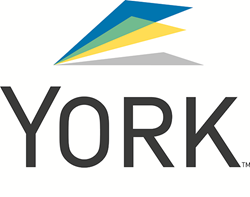 (PRWEB) October 09, 2017
York Risk Services Group (York), a premier provider of claims management, managed care, specialized loss adjusting, alternative risk programs, pool administration and other insurance services, today announced that Aisling Jumper will assume leadership of YorkPro, the company's professional liability subsidiary. Ms. Jumper succeeds Lucy Ann Galioto, who will retire in October.
Ms. Jumper joined YorkPro in 2013 as Director of YorkPro and was promoted to Vice President in May of 2016. Prior to joining the company, she practiced law in Massachusetts and New York specializing in handling claims for a wide variety of professional liability lines, including Directors & Officers (D&O), Employment Practices Liability (EPL) and Errors & Omissions (E&O). At YorkPro, Ms. Jumper led the teams that focused on D&O and E&O, EPL, ERISA and Fiduciary Litigation, Cyber Liability and Lawyers Professional Liability.
Ms. Jumper earned her Bachelor of Commerce from the National University of Ireland, Galway, and her J.D. from Boston College Law School. She is admitted to the NY State and Commonwealth of Massachusetts Bars.
"Aisling has been a key player in YorkPro's growth and success, and has helped expand the range of services we offer. In the professional and management liability market, new challenges emerge daily. Aisling's experience and insights will ensure that YorkPro is always ready to help our clients," commented Patrick Walsh, Chief Claims Officer at York.
Ms. Galioto has been a pioneer in the professional liability insurance industry both in underwriting and claims management, and has held a variety of executive leadership positions including Senior Vice President of AIG Executive Liability. Upon moving to York in 2011, she was instrumental in establishing and leading YorkPro.
"Lucy Ann has been the heart and soul of YorkPro, bringing not just her expertise in professional liability but her passion for her work and for helping clients. We could not have built YorkPro into the successful operation it is today without her leadership," said Tom Warsop, Chairman of the Board of York. "She is equally committed to mentoring other professionals across our organization and the industry and developing the next generation of insurance professionals. Aisling Jumper is one of those leaders, and YorkPro will continue to flourish under her direction," he added.
Before joining YorkPro and AIG, Ms. Galioto practiced law in New Jersey, held various corporate management positions and was active in politics, serving as the Mayor of Tewksbury Township, New Jersey. Ms. Galioto is frequently invited to speak at Insurance Industry Conferences. In 2005, she received the Helen M. Garvin Outstanding Achiever Award from the National Association of Insurance Women. She has been instrumental in mentoring and developing others in the industry that currently hold senior management roles.
Ms. Galioto was recently appointed to the board of the Claims and Litigation Management (CLM) Advisory Board where she plans to continue her long standing contribution to the insurance community.