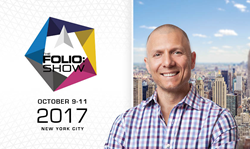 "Real selling happens when you aren't selling. Selling is a side effect of being real with yourself and your prospect." - Haj Carr, TrueLine Publishing CEO
Portland, Maine (PRWEB) October 03, 2017
Haj Carr, CEO of TrueLine Publishing and TrueLine Public Relations, will kick off the 2017 Folio: Show conference in New York City with a paneled learning session titled Ditch the Pitch: How to Build Quality Client Relationships. The session will be held Monday, October 9 at 1:30 p.m.
The Folio: Show is an annual three day conference boasting the largest gathering of magazine and digital media executives in the U.S., with over 1,200 in attendance.
Its purpose is to deliver insight, inspiration and actionable ideas needed by media teams to generate revenue and boost engagement. This year's show is held at the Hilton Midtown in New York City, October 9-11, 2017.
Carr's session, Ditch the Pitch, is the first of many on the calendar for the show's opening day and is part of the Sales Track, designed to provide professionals in media sales insights into the changing landscape of bought media.
Ditch the Pitch will be cohosted by John Graney, vice president of integrated sales with Bonnier Corporation; and Steven Grune senior vice president and group publisher with Meredith Corporation.
The session will emphasize that there is still plenty of room and reason for ad sales to be personalized in modern media—and for sales to be done in a non-salesy manner.
"Real selling happens when you aren't selling. Selling is a side effect of being real with yourself and your prospect," says Carr, whose Portland, Maine-based company, TrueLine Publishing, writes articles that double as marketing material for companies across the country and globe.
Carr also recently launched a PR firm called TrueLine Public Relations that does everything from website design and creation to personal brand management and all manner of custom writing.
In addition to learning sessions and networking events, the Folio: Show hosts several award banquets, including the Folio: 100 Awards and the Folio: Eddie & Ozzie Awards.
Carr will be recognized at the Folio: 100 Awards, which celebrate the best and brightest minds in the magazine media. The reception will be held Monday, October 9 at 5:00 p.m.
"I am both pleased and honored to receive this award, not for myself but rather because this award represents the collective efforts of the amazing staff and community that is TrueLine Publishing and TrueLine Public Relations," Carr says.
Three of TrueLine's magazines—Terra Firma, Blueprint and Toggle—will be honored at the Folio: Eddie & Ozzie Awards, which celebrate gorgeous design and uncompromising journalism. The Eddie & Ozzie's are held Wednesday, October 11 at 12:30 p.m.
"We encourage interdepartmental communication and the result of collaboration is a beautiful thing—you can see it on our magazines," says Erica Berry, director of digital marketing and strategy for the TrueLine companies. "Our layout design tells the story along with the written words, providing readers a true representation of our clients and their stories."
Carr will be available for interviews and Q&A after the Ditch the Pitch session. To schedule an interview, please contact Erica Berry at eberry@truelinepublishing.com or 207-517-8386. Tickets for the Folio: Show are available on the Folio: website.