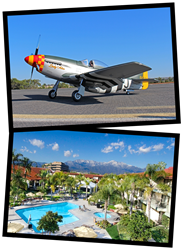 Muncie, IN (PRWEB) October 02, 2017
The Academy of Model Aeronautics Foundation is happy to announce that the AMA Foundation for the Future Sweepstakes is back. The winner of the sweepstakes will win a trip to California for the ride of a lifetime in Lady Alice, a P-51 Mustang.
The contest begins today and ends December 8, 2017. Anyone 18 years or older can enter once per week. Donations are accepted and appreciated, so you can help support the AMA Foundation along with your entry. The prize package includes an exciting trip to California in January 2018 to attend AMA Expo West and the ride in Lady Alice. Also included in the package:

Round-trip airfare
Three days and two nights at DoubleTree by Hilton
Free admission to AMA Expo West, January 5-7, 2018 (learn more at http://www.amaexpo.com)
A rental car
A $100 Visa gift card
To learn more about the sweepstakes, read the official rules, or submit your entry, visit http://amablog.modelaircraft.org/amafoundation/sweepstakes.
The AMA Foundation would like to thank Dr. Kendall Wagner for donating the ride in Lady Alice.