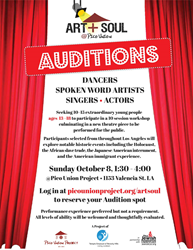 The only reason I'd go back to 18 years old is to be in this group again.
Los Angeles, CA (PRWEB) September 29, 2017
Pico Union Project seeks 10-15 extraordinarily talented young people between the ages of 13-18 to participate in a 10-session workshop culminating in a new theater piece to be performed for the public. This group of dancers, singers, spoken words artists, actors and musicians will be selected from throughout Los Angeles to draw inspiration from a review of notable historic events, including the Holocaust, African slave trade, the Japanese American internment, and the American immigrant experience.
Art+Soul is an initiative of the Pico Union Project building to empower teens to put to action the principle "Love your neighbor as you want to be loved." Performance experience preferred, but not required. All degrees of talent will be welcomed and thoughtfully evaluated. Once selected, the group will rehearse on Sunday afternoons at the Pico Union Project.
Art+Soul is built on an arts program first started 37 years ago by musician and PUP founder Craig Taubman. When auditions were first announced there was an outpouring of cheers from teens and families first touch by the experience in the 1980's. "Working with the group was a great part of my life in LA and the source of life long friendships," reflected Jeffrey P. "The only reason I'd go back to 18 years old is to be in this group again," shared Daphna V.
Art & Soul is funded through the generosity of the Jewish Federation of Greater Los Angeles and is produced by the Pico Union Project in association with the LA Youth Theater Ensemble and Temple Emanuel
Sign up for auditions at: http://www.picounionproject.org/artsoul
ABOUT PICO UNION PROJECT Housed in the oldest synagogue building in Los Angeles, The Pico Union Project is a multi-faith cultural arts center dedicated to the Jewish principle to "love your neighbor as yourself." We honor this teaching by bringing diverse cultures together through song, story, art, food, prayer and community service. http://www.picounionproject.org