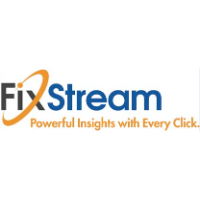 "FixStream provides an industry-first end-to-end correlation and visualization of Oracle ERP transactions and metrics that is a real game changer, and a critical AIOps platform that I believe IT Operations will kill to have in their networks."
San Jose, CA (PRWEB) October 02, 2017
FixStream, an award-winning Algorithmic IT Operations (AIOps) vendor, announced today the commercial availability of its solution for Oracle ERP, an industry first.
"The business is accelerating so quickly that IT organizations need to reinvent how to manage and operate their business-critical processes, or risk having their competition leave them behind," said Mike Jude, research analyst, Frost & Sullivan. "FixStream provides an industry-first end-to-end correlation and visualization of Oracle ERP transactions and metrics that is a real game changer, and a critical AIOps platform that I believe IT Operations will kill to have in their networks." 
Enterprises are accelerating their digital transformation and increasing their dependency on critical business processes that run on Oracle ERP. The business impact of an ERP outage or poor performance could be dire – service outages could cost enterprise $72k per minute.*
At the same time, enterprises are rushing to hybrid cloud seeking both business agility and security, increasing its adoption rate 3x in the last year.**
 
The adoption of new digital processes while migrating to hybrid cloud will require IT and business operations to closely cooperate and to gain a shared visibility into the end-to-end process, from business transactions all the way to the underlying infrastructure.
 
Today's domain-centric tools don't correlate business transactions with application services and infrastructure events, making troubleshooting in a hybrid cloud environment ever more complex. 
 
FixStream, an Oracle Gold Partner, facilitates digital transformation by automating the discovery and mapping of critical Order-to-Cash and Procure-to-Pay processes to the underlying application process flows, hosts, backend databases and infrastructure entities such as switches, routers and storage arrays.
"EMA named FixStream a leader in Advanced IT Analytics after careful evaluation of its unique capabilities for mapping service interdependencies to business-driven objectives, breaking down the barriers of communication between IT and business operations," said Dennis Drogseth, vice president, Enterprise Management Associates. "This leadership is exemplified in FixStream's move to support Oracle ERP Cloud with distinctive capabilities to address business outcomes in context with service performance with native ease and dynamic currency."
FixStream 6.0 provides out-of-the-box support for Oracle ERP 12.X, Oracle Real Application Clusters, Oracle VM hypervisor and Oracle Fusion Middleware in on-premises, hybrid, public or Oracle ERP cloud deployments.
"FixStream provides a powerful analytics platform that delivers the industry's first end-to-end view of Oracle ERP transaction flows correlated with applications and infrastructure in hybrid IT environments," said Bojan Simic, founder and chief analyst, Digital Enterprise Journal. "FixStream can be deployed in few hours thanks to its out-of-the-box discovery of Oracle ERP applications and delivers instant tangible value to business and IT operations."
FixStream 6.0 can be deployed to proactively address business process issues, such as Order to Cash, in a hybrid environment. In such a scenario, the customer could run an Oracle ERP instance in the Oracle Cloud and interact with enterprise services for tax calculation, authentication and identity service that are hosted on-premises in the customer data center.
For instance, should the number of pending orders increase beyond the expected threshold during a specific period, because of the system failure while doing credit check, FixStream 6.0 can automatically detect that the root cause was a CPU starvation issue in the VMs in the customer premise where the Oracle database is deployed for credit check.
"Oracle ERP Cloud is growing at a very rapid rate, 280 percent just in the last quarter," said Sameer Padhye, founder and CEO of FixStream. "With FixStream 6.0, the vast Oracle customer base can now run their key business processes in a hybrid cloud environment more efficiently, at lower cost while gaining key operational insights through end-to-end correlated visibility."
This year FixStream was named a Gartner "Cool Vendor" and a "Leader" by EMA for Advanced IT Analytics and won the Red Herring Top 100 North America award.
* Digital Enterprise Journal, 2017
About FixStream
Watch FixStream's Vision Video
FixStream accelerates the delivery of new digital services. It provides analytics and visualization of business transactions correlated with application services and infrastructure (such as compute, network and storage) and their associated faults and alerts for a complete view in real time of a customer's hybrid IT. Customers have deployed FixStream to automate root cause analysis of business transactions and applications, optimize IT resources and reduce infrastructure cost, accelerate technology migration to hybrid cloud, and reduce compliance risk and audit costs. For additional information, visit http://www.fixstream.com/, or connect with FixStream on LinkedIn and Twitter.