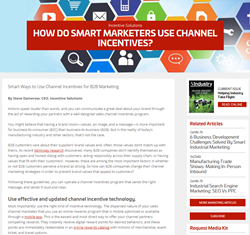 Speed, ease of use, and immediately apparent benefits will pique your partners' interest in your channel incentive programs.
Atlanta, GA (PRWEB) October 03, 2017
Brand vision—values, an image, and a message— is sometimes seen as being more important for business-to-consumer (B2C) than business-to-business (B2B). However in the reality of today's manufacturing industry, B2B customers actually care deeply about their suppliers' brand vision. According to a new Industry Today article written by Incentive Solutions CEO Steve Damerow, B2B companies can communicate their brand's value through smart channel marketing strategies.
Using effective and updated channel incentive technology is the core tactic. "The dispersed nature of your sales channel mandates that you use an online rewards program that is mobile optimized or available through a mobile app. This is the easiest and most direct way to offer your channel partners compelling rewards," says Steve Damerow. "Speed, ease of use, and immediately apparent benefits will pique your partners' interest in your channel incentive programs."
The next step is to research the needs and values of your sales channel customer base, and craft your brand's channel marketing messages to reflect these values. You can obtain this valuable insight by offering channel partners incentive rewards for submitting surveys about what they value in the companies they do business with.
Studies have found that personal interactions with sales representatives remain the most influential factor for B2B customers. "Your sales reps are the mouthpieces of your brand, so invest in them," says Damerow. "Reiterate brand values in all communications with your sales reps, incorporate those values into their onboarding, and continue reinforcing with incentives for ongoing training."
Running specific incentive sales promotions that project values is another key strategy. This might include offering sales reps rewards for selling more energy-efficient products to demonstrate that you are environmentally conscious; or allowing program participants to donate reward points to charities to show your company's humanitarian side.
The Industry Today article further confirms that if brand messages and values are not resonating with your customers, it's either because your message isn't making its way to them or you're not sending the message they want to hear. However, you can turn this situation around. Smart channel marketing can help you establish your brand values and become a company your channel partners trust.
About Incentive Solutions
Incentive Solutions, Inc., founded in 1994 based in Atlanta, GA, offers online rewards, travel incentives and gift card rewards. Since its creation, Incentive Solutions has focused on delivering more than just rewards, innovating the incentive industry by utilizing emerging online technologies. Acting as valued partner and trusted advisor to clients, they help organizations increase sales, motivate employees, build customer loyalty, create positive work environments and improve channel sales relationships.
Incentive Solutions
2299 Perimeter Park Drive, Suite 150
Atlanta GA 30341
1-770-457-4597
1-866-567-7432
https://www.incentivesolutions.com