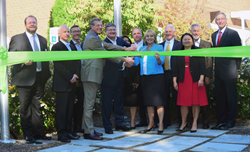 Having built a phenomenal scientific operation that supports global clinical trials, we are looking toward the future and to serve our expanding client base in the U.S. and globally.
Doylestown, Pa. (PRWEB) October 02, 2017
Bioclinica®, the world-leading provider of scientific-enabled Medical Imaging and eHealth solutions in clinical trials, hosted New Jersey Lt. Governor Kim Guadagno, clients and partners in an open house to celebrate the official opening of its new and larger Princeton, New Jersey facility on September 28. Following an official ribbon-cutting, guests toured the impressive space, getting an insider's view into the Company's work, which has supported the global regulatory approvals of more than 150 new medical treatments in Oncology, Neurosciences, Musculoskeletal and other therapeutic areas.
Lt. Governor Guadagno said, "Bioclinica and its employees are an important part of our great state in what you do both collectively and as individuals in the community. We thank you for growing here in New Jersey." The ultra-modern workspace at 211 Carnegie Center is the home office to some 300 Bioclinica employees. The facility offers the Company, which serves all of the top 20 bio-pharmaceutical companies ─several of which are nearby ─ ample room to grow.
"Having built a phenomenal scientific operation that supports global clinical trials, we are looking toward the future and to serve our expanding client base in the U.S. and globally," said Medical Imaging & eHealth Solutions President David Herron.
Bioclinica employs highly qualified individuals with medical, scientific, technology, and other backgrounds for its growing workforce. Among the staff are Medical Doctors, Radiologists, Physician Assistants, Registered Nurses, Nurse Practitioners, and other professionals in a variety of areas who support the successful business. "Princeton is a major leading international research hub with an attractive talent pool, making our decision to remain in this thriving medical and scientific research community an easy one," Herron said.
Bioclinica's new facility is less than two miles away from the offices it previously occupied since 2013. Local, regional, national and international ground and air transportation are conveniently nearby. The relocation was facilitated by the Grow New Jersey program. For Bioclinica, the new office represents a multimillion dollar capital project investment.
Of the open and modular design of the space, Bioclinica's CEO Dr. John Hubbard remarked, "We wanted to create a world-class work environment that inspires collaboration and communication ─ one that ignites passion, knowledge and innovation unique to our culture ─ and we feel that we have achieved that here."
About Bioclinica
Bioclinica is a specialty services provider that utilizes expertise and technology to create clarity in the clinical trial process. Bioclinica delivers focused service supporting multifaceted technologies. Scientific experts in the Medical Imaging & Biomarkers domain provide medical imaging and cardiac safety services and a molecular marker laboratory. The eHealth Solutions domain includes the eClinical Solutions platform; Randomization & Trial Supply Management; Financial Lifecycle Solutions; Safety & Regulatory Solutions; Strategic Consulting Services; App xChange Alliances; and eHealth Cloud Services. Bioclinica also offers a network of research sites, patient recruitment services, and post-approval research expertise. The Company serves more than 400 pharmaceutical, biotechnology and device organizations – including all of the top 20 – through a network of offices in the U.S., Europe and Asia. Learn more about Bioclinica at http://www.Bioclinica.com and on Bioclinica LinkedIn and Twitter.