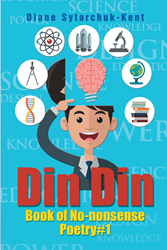 CANADA (PRWEB) October 02, 2017
Stemming from the deep devotion for her son, author Diane Sytarchuk-Kent put pen to paper and published a book of poetry and illustrations designed for those with special needs, such as autism, to easily understand. In her new book, "Din Din Book of No-Nonsense Poetry #1," Sytarchuk-Kent provides poems accompanied by hand drawn illustrations aimed at allowing special needs to follow along and provide readers insight into the mind of a young autistic person to give them a better understanding of the world they see.
Dedicated to Sytarchuk-Kent's autistic son Eric who passed away, the book honors his memory and is a collection of poetry and illustrations influenced by their relationship. Positive messages are incorporated throughout the book to impact and influence readers to have confidence in themselves and compassion for others.
A very caring and kind Christian, Sytarchuk-Kent has a special place in her heart for those with special needs. Her encouraging message is reflected in the book and she hopes to empower people of all walks of life to treat others with the same compassion.
"For my son Eric, I used social stories to teach him and to communicate with him. This was the only real method for me to talk to him. He was quite brilliant really, but his mind would not permit him to move on to a different form of communication," said Sytarchuk-Kent. "Then I remembered my idea of long ago to help those visual learners be able to communicate and learn so I embarked on this project to help benefit as many people as possible."
"Din Din Book of No-Nonsense Poetry #1" has received numerous accolades including the Pacific Book Review Star which is awarded to books of excellent merit and received four stars in her Foreword Clarion Review.
"These poems provide an opportunity to enjoy a fun, rollicking, rhythmic, rhyming, laughter-filled time reading aloud with a developmentally disabled loved one" – Foreword Clarion Review.
"Din Din Book of No-Nonsense Poetry #1"
By Diane Sytarchuk-Kent
ISBN: 978-1-49902-505-7
Available at: Xlibris Bookstore, Amazon, and Barnes & Noble
About the author
Diane Sytarchuk-Kent is a full-time author and musician. She is also a proud mother and dedicated the book to her autistic son Eric who she is very thankful for and to who she owes a wealth of knowledge. Sytarchuk-Kent is a Christian woman and resides in Saskatoon, Canada. To learn more please visit http://www.dindincreates.com.
Review Copies & General Inquiries:
LAVIDGE - Phoenix
Lauren Dickerson
480-998-2600
ldickerson(at)lavidge(dot)com