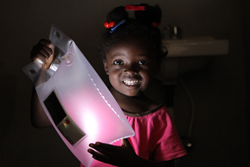 It's hard to imagine families and young children living without the comfort and security of light and shelter.
Sarasota, FL (PRWEB) September 30, 2017
Shine For Shelterbox Campaign Begins Nov. 6
This holiday season, humanitarian disaster relief organization ShelterBox is encouraging grassroots Shine for ShelterBox candlelight gatherings across the country to help families in the Caribbean, Syria, Niger, and around the world, whose own power, lights, and shelter were destroyed by hurricanes and other natural disasters and conflicts.
"It's hard to imagine families and young children living without the comfort and security of light and shelter. During a season when many of us come together to celebrate what really matters with family and friends, our Shine for ShelterBox campaign gives us the opportunity to make those gatherings even more meaningful. This effort will help us spread light and comfort by raising funds for solar lights, tarps, tents, and tools to rebuild homes for families across the world, who have literally lost everything," says ShelterBox USA President Kerri Murray.
Ever since Hurricanes Irma and Maria devastated islands across the Caribbean, ShelterBox has been working to assess the most extreme needs. To help the most vulnerable families who lost everything, it's distributing tents and ShelterKits containing tarps and tools to rebuild or repair structures. With winter approaching, ShelterBox is also preparing to distribute winter blankets, mattresses, clothing, and LuminAid solar lights to help refugees in Syria and Iraq. Around the world, every second, one more person is displaced by conflict and natural disaster. About 85 million people are displaced by conflict and natural disaster--more than at any point since World War II.
ShelterBox USA is a registered nonprofit that is part of the ShelterBox international network. ShelterBox is an official Project Partner of Rotary International. Since 2000, ShelterBox has provided emergency shelter following more than 300 disasters in over 95 countries. Responding to earthquake, volcano, flood, hurricane, cyclone, tsunami, or conflict in places like Iraq and Syria, by delivering essential aid and other supplies, ShelterBox has helped more than a million people rebuild their lives.
TO PARTICIPATE IN SHINE FOR SHELTERBOX:

Visit http://www.ShelterBoxUSA.org/shine to download a Shine for ShelterBox fundraising kit that includes event ideas, place cards, and recipes.
Choose the type of candlelight gathering you'd like to host: It could be a workplace potluck, evening dinner, community service club, campus, church, school event, etc.
Then add your own touches (lanterns, candles, LED lights, etc.) to make your gathering glow with generosity.
ShelterBox was one of the first nonprofits to use the LuminAID, a solar-rechargeable light, which stores up power during daytime to give hours of illumination when darkness falls. http://www.ShelterBoxUSA.org/luminaid. Invented by two American students, and backed by businessman Mark Cuban, the LuminAID is light to carry, and has an inflatable, waterproof, light-diffusing pouch making it ideal when conditions are damp, as well as dark.
CONTACT: Senior Communications Manager Susan Skog ssskog(at)shelterboxusa(dot)org or (970) 797-2270