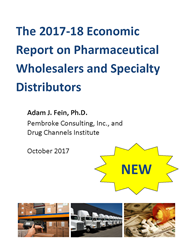 The pharmacy market's evolution will continue to pressure wholesalers' sell-side margins for brand-name drugs
Philadelphia, PA (PRWEB) October 03, 2017
Today Drug Channels Institute, a leading management educator for and about the pharmaceutical industry, released its exclusive, in-depth analysis of the dynamic prescription drug distribution industry. Drug Channels Institute's new 2017–18 Economic Report on Pharmaceutical Wholesalers and Specialty Distributors reveals how a deteriorating healthcare business environment culminated in significant profit declines and loss of stock market value.
"We project that U.S. drug distribution revenues at the Big Three public wholesalers—AmerisourceBergen, Cardinal Health, and McKesson—will reach $425 billion in 2017, a 4.5% increase from the 2016 figure." said Drug Channels Institute CEO Adam J. Fein, Ph.D., the study's author and a widely regarded expert on pharmaceutical economics and the drug distribution system. "This is the slowest revenue growth since 2013. We also estimate that core U.S. drug distribution margins peaked in 2015 and have declined ever since."
Fein adds, "The pharmacy market's evolution will continue to pressure wholesalers' sell-side margins for brand-name drugs. Wholesalers' profits from generics drugs have tumbled due to generic deflation and pharmacy negotiations. As we predicted, specialty biosimilar drugs have not delivered significant profits for wholesalers."
These findings are among the many insights and trends in this highly regarded report, now in its eighth edition. With 117 proprietary charts, exhibits, and data tables, it remains the most comprehensive resource for analyzing the pharmaceutical distribution industry's economics, market structure, growth rates, forces of change, and interactions with the U.S. healthcare system.
The 2017–18 Economic Report on Pharmaceutical Wholesalers and Specialty Distributors provides a thorough analysis of each public wholesaler's business segments and underlying profitability, based upon DCI's proprietary economic models. It also analyzes many crucial healthcare trends that will affect wholesalers and distributors, including: the outlook for brand-name drug prices, deflation of generic drug prices, the emergence of hospital- and physician-owned specialty pharmacies, the growth of specialty drugs, and much more.
To purchase and immediately download the new report, visit
http://drugchannelsinstitute.com/products/industry_report/wholesale/.
About Drug Channels Institute
Drug Channels Institute, a division of Pembroke Consulting, Inc., is a leading provider of specialized management education and computer-based training for and about the pharmaceutical industry. To learn more about its products, visit http://www.drugchannelsinstitute.com/. To access Dr. Fein's popular Drug Channels blog, visit http://www.drugchannels.net.
Media Contact:
Tamra Feldman
Pembroke Consulting, Inc.
215-523-5700 extension 14
Email: admin(at)pembrokeconsulting.com