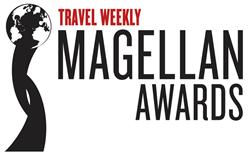 The Travel Weekly Magellan Awards are among the most prestigious in the industry and it is an honor to be recognized for our leadership and innovation year-after-year.
Wilmington, Mass. (PRWEB) October 03, 2017
World Travel Holdings and its brands including CruiseOne®, Dream Vacations and Villas of Distinction® have been recognized again this year by Travel Weekly for their industry leadership, outstanding and creative consumer marketing campaigns and community involvement. Villas of Distinction won two golds, while CruiseOne and Dream Vacations won two golds and four silvers.
"The Travel Weekly Magellan Awards are among the most prestigious in the industry and it is an honor to be recognized for our leadership and innovation year-after-year," said Jeff Tolkin, co-chairman/CEO for World Travel Holdings. "Our team of employees embody our values and mission on a daily basis to ensure that they create the best vacation experiences for clients, and also provide our franchisees and independent agents the tools they need to succeed."
Villas of Distinction was recognized with gold for its value proposition. The full-service luxury villa provider creates one-of-a-kind getaways at the world's top villas for consumers. Villas of Distinction provides a complete solution for consumers and agents looking for trustworthiness and effortless vacation planning, as well as a full-service concierge. The luxury provider may not boast the largest number of villas, but it is known for having the highest quality because it ensures every villa meets strict standards so that each home exceeds expectations, and its concierge department can arrange everything from meals (either at restaurants or prepared by a chef at the villa) to experiences such as spa treatments at the villa, excursions to the local area, or one-of-a-kind events such as fireworks and more.
With a focus on bringing more value to a client's villa vacation while incentivizing travel agents, Villas of Distinction also won gold for its marketing campaign giving customers up to a $2,000 Concierge Credit to spend on extras and up to a $750 bonus commission for agents. Clients were able to use the credit on adding special amenities and activities like hiring a private chef or masseuse so they can just kick back and relax, or partaking in local excursions such as a private zipline adventure in Mexico, snorkeling tour in St. Martin, yacht sail in Turks and Caicos and a variety of other activities.
Vacation Magazine is part of CruiseOne/Dream Vacations' direct mail program and won a gold Magellan Award. The publication highlights all types of vacation experiences, inspiring readers to dream about and book their next trip. It includes articles about travel trends, industry news, cruise news and destination highlights.
Make-A-Wish® is the signature charity of World Travel Holdings and CruiseOne/Dream Vacations won gold for Granting Deanna's Wish. In 2016, the headquarters team not only granted Deanna's wish of going to Disney World, but also hosted a Frozen-themed sendoff party and invited her to be an honorary member of the office's Walk for Wishes team.
CruiseOne/Dream Vacations won silver in the web marketing category for its series of Virtual Cruise Nights, which help educate consumers about cruising. Cruise line reps share the latest news on their cruise line, while listeners ask questions, take advantage of exclusive promotions and can win a free cruise. So far Royal Caribbean International, Carnival Cruise Line and Celebrity Cruises have participated. Two more are scheduled for the year with Oceania Cruises and Norwegian Cruise Line.
Two CruiseOne/Dream Vacations' marketing campaigns won silver. 2017 started with a flurry of activity as a result of It's Snow Secret, a corporate-funded promotion which offered up to $300 to spend on their vacations – both cruise and resort stays. It's Snow Secret led to record-breaking sales. Drew Daly, general manager of network engagement and performance, hosts a Monthly Travel TV Segment on the "Today at 5" morning show of local NBC affiliate WPTV. These segments educate consumers about the value that travel agents provide while providing timely and relevant travel information.
Dream Vacations Franchise Owner Mara Hargarther won silver for her MARAthon Dream Team with Celebrity Cruises campaign. Diagnosed with breast cancer in November 2015, she ran the Donna Foundation 5K in February 2016 a week after starting chemotherapy. In 2017, she partnered with Celebrity to sponsor the VIP Cocktail Reception at the 2017 DONNA Marathon Weekend. Benefits included a premium booth, logo on collateral & event shirts, full page ad in program & online presence. MARAthon Dream Team participated in three races donating more than $15,000.
The Magellan Awards are judged and overseen by a one-of-a-kind panel of top travel professionals representing the best names and most accomplished leaders from the industry. In determining winners, entries do not compete with one another, instead they are judged against a standard of excellence based on the long experience of Travel Weekly. To uphold this high standard of excellence, a category may have multiple winners, or may have no winners at all.
For more information on World Travel Holdings and any of its brands please visit http://www.WorldTravelHoldings.com. World Travel Holdings is currently hiring virtual travel agents. For more information on joining this award-winning team, please visit the World Travel Holdings careers page.
About World Travel Holdings
World Travel Holdings is the world's largest cruise agency and award-winning leisure travel company with a portfolio of more than 40 diverse brands. In addition to owning some of the largest brands distributing cruises, villas, hotels, resort vacations, cars and luxury travel services, World Travel Holdings has a vast portfolio of licensed private label partnerships comprised of top leisure travel providers, including almost every U.S. airline, leading hotel brands and prominent corporations. The company also operates a top-rated travel agency franchise and the country's original host agency, and is consistently recognized as an industry leader in work-at-home employment. Its global presence includes operating multiple cruise and vacation brands in the United Kingdom. World Travel Holdings has offices in Wilmington, Mass.; Ft. Lauderdale, Fla.; Virginia Beach, Va.; New York, NY; and Chorley and Southampton, England. For more information, visit WorldTravelHoldings.com.
# # #