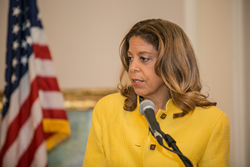 Chicago, IL (PRWEB) October 05, 2017
Deputy Mayor Andrea Zopp gave the keynote speech at Year Up Chicago's fifth annual Opportunity Breakfast on Friday, September 29, followed by Bridget Gainer, Cook County Commissioner – 10th District. The breakfast took place from 7:30 am to 8:45 am at the Union League Club in Chicago, where the Mayor and Commissioner Gainer joined executives, philanthropists and other community leaders to celebrate the workforce development nonprofit and discuss plans for the future.
"I am proud to support the continued growth and success of Year Up. They understand the hurdles our students face, and are uniquely qualified to provide the skills, experience and support necessary to ensure they reach their potential," said Deputy Mayor Andy Zopp. "More now than ever, Chicago students are achieving record academic successes, and programs like Year Up are helping to make sure whichever path they chose after graduation is a successful one."
"Nothing builds a future like a job and nothing builds a City like a generation propelled by opportunity," said Bridget Gainer, Cook County Commissioner, in her speech.
"We're thrilled to have the Deputy Mayor and Commissioner Gainer join us this morning to discuss the Opportunity Divide in Chicago — the gap between the 97,000 young adults in Cook County who are out of work and out of school, and the thousands of unfilled jobs in Chicago," said Year Up Chicago Executive Director Jack Crowe. "With the support of our city's leaders, executives and donors, Year Up Chicago can continue to grow quickly to close the Opportunity Divide and help low-income youth access careers in top industries."
Since 2010, Year Up Chicago has helped more than 850 young adults achieve their professional and educational goals through hands-on technical and professional skills training, college credits and internships. These young adults provide 45 of Chicago's leading businesses – including JPMorgan Chase, Allstate and Northern Trust — with a pipeline of skilled, motivated talent for entry- and mid-level roles in Sales, IT, Financial Operations, Cyber Security and Business Operations.
Year Up Chicago now serves more than 220 people each year, with 88 percent of graduates employed or attending college full-time within four months of completing the program. Year Up is free for students, who also earn weekly stipends and college credits throughout the year. Learn more about Year Up Chicago by visiting us on Facebook and Twitter.
About Year Up
Year Up's mission is to close the Opportunity Divide by providing urban young adults with the skills, experience, and support that will empower them to reach their potential through professional careers and higher education. Year Up achieves this mission through a high support, high expectation model that combines marketable job skills, stipends, internships and college-level coursework. Its holistic approach focuses on students' professional and personal development to place these young adults on a viable path to economic self-sufficiency. Year Up currently serves more than 3,600 students annually across 24 campuses in Arizona, Baltimore, Bay Area, Chicago, Dallas/Fort Worth, Greater Atlanta, Greater Boston, Greater Philadelphia, Jacksonville, Los Angeles, National Capital Region, New York City, Providence, Puget Sound, South Florida and Wilmington.
To learn more, visit http://www.yearup.org, and follow us on LinkedIn, Facebook, and Twitter: @YearUp