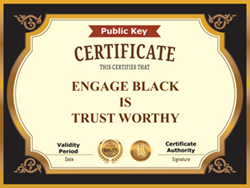 An unprecedentedly high level of security and automation of digital personal certificate lifecycle has been achieved.
Aptos, California (PRWEB) October 04, 2017
Engage Black, a Cryptographic Appliance manufacturer, and DigiFlak, a manufacturer of USB / NFC strong multifactor network access authentication without passwords, announced today the successful integration of the BlackVault Certificate Authority (CA) with the Secuters.
The BlackVault CA is a Certificate Authority Appliance with an integrated Hardware Security Module (HSM) that securely boots up as a good-to-go Certificate Authority. Cryptographic functions are performed in a secure multi-layer tamper reactive cryptographic boundary. Private keys are never in-the-clear. CA standard features: EST, OCSP and ECC automate authentication. Integrated Firewall limits access to approved IP address ranges.
DigiFlak's Secuters are USB/NFC-connected microcomputers that: provide multifactor and password-less authentication for social and corporate WEB-resources; encrypts data at rest and in motion; establishes VPNs; prevents phishing/fraud attacks and manages passwords and certificates.
Interoperability testing required the activation of the Firewall capabilities of the BlackVault to restrict access to a specific IP address range due to the detection of polling robots. Secuters, once configured with the appropriate Credentials and IP address, were able to readily obtain certificates from the BlackVault CA using the Enrollment over Secure Transport protocol via HTTPS.
"We envision our combined solution being used in certificates management and communication protection of IoT and Smart Contracts projects," said Maxim Kostis Co-Founder DigiFlak.
"Thanks to the successful integration of DigiFlak's Secuters with Engage Black Vault CA-servers, an unprecedentedly high level of security and automation of digital personal certificates lifecycle has been achieved," said Mark Doyle Engage Black President and CEO.
DigiFlak, founded in Tallinn Estonia in 2013, develops, manufactures, sells, and supports client security hardware and software solutions. For more information contact DigiFlak at +372.600.2989 or sales(at)digiflak.com.
The BlackVault platform is also available as a code signing appliance, BlackVault CYNR; and as a network attached HSM, BlackVault HSM, with support for PKCS#11, JAVA, and Microsoft CNG cryptographic libraries and compatibility with Microsoft Authenticode, Eclipse, Android Studio and other build applications.
Engage Black manufactures innovative cryptographic solutions that: securely generate and manage cryptographic keys and operations; and encrypt data at rest and in motion http://www.engageblack.com.
For more information about the Engage BlackVault CA and the BlackVault platform, contact Engage at +1.831.688.1021 or email sales(at)engageblack.com.