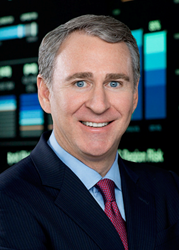 "The Navy SEALs and their families are representative of our country's greatest values and make sacrifices to protect all Americans," said Griffin. "To receive an award from this community and the Navy SEAL Foundation is a truly humbling experience."
Chicago, Illinois (PRWEB) October 02, 2017
On Wednesday, September 27th, the Navy SEAL Foundation hosted its 6th annual Chicago Evening of Tribute to honor the bravery and sacrifice of the Naval Special Warfare community and its families. Under the leadership of Bill and Sandi Strong, the event's co-chairs, 960 patriots attended the benefit at The Field Museum, which raised a record-breaking $5 million.
"With programs ranging from tragedy assistance to veteran support, the Navy SEAL Foundation provides important services for the Naval Special Warfare community," said Bill Strong, Chairman and Managing Director of Longford Capital Management, LP. "As co-chairs of the event, my wife Sandi and I were honored to have played a role in recognizing the contributions and sacrifices made by these individuals and their families."
Retired Four-Star Army General and former CIA Director David Petraeus and Chicago businessman and philanthropist Ken Griffin, who received the Foundation's prestigious Navy SEAL Patriot Award for his continued support of the Naval Special Warfare community and its families, engaged in an active and robust discussion onstage that included foreign policy issues, cybersecurity risks to our nation, and the impact of the Foundation's work.
"The Navy SEALs and their families are representative of our country's greatest values and make sacrifices to protect all Americans," said Griffin. "To receive an award from this community and the Navy SEAL Foundation is a truly humbling experience."
Former Navy SEAL Senior Chief Mike Day also spoke at the event; he told attendees about his journey to recovery after surviving 27 gun shots during a firefight in Iraq. Additionally, he spoke about the need for the Foundation's services, as they provide critical support for SEALs and their families, who are often separated from one another for 270 days per year on average.
The event's proceeds will help fund services and programs for all active-duty Naval Special Warfare personnel and their families, Naval Special Warfare Gold Star families, and Naval Special Warfare veterans.
###
About the Navy SEAL Foundation
Built on an unparalleled legacy and established in 2000, the Navy SEAL Foundation is a 501(c)(3), tax-exempt, national, non-profit benevolent organization headquartered in Virginia Beach, VA. The Foundation is a resolute cornerstone for the Naval Special Warfare community and their families in times of adversity and triumph. Each of our specialized programs maps directly back to the U.S. Special Operations Command directive and the Naval Special Warfare's Preservation of the Force and Family Program, a program designed to address the "fraying" of the force caused by the stress of more than 16 years of sustained combat. Our programs are designed to improve health and welfare, build and enhance resiliency, empower and educate their families, and provide critical support during times of illness, injury, and loss. For more information, please visit http://www.navysealfoundation.org.