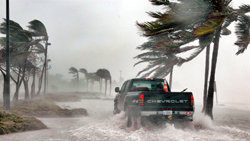 "We need a blueprint, an action plan and funding on the scale of the historic Marshall Plan. The U.S. and other countries have enjoyed the hospitality of their Caribbean territories. It's time to give back and help rebuild a stronger, more sustainable future for the region." Richard Cutting-Miller
New York, New York (PRWEB) October 03, 2017
Many of the vibrant Caribbean Islands that international travelers know and love have been decimated by hurricanes Irma and Maria. Entire cities, communities and neighborhoods are gone, and their proud, welcoming residents are scattered in makeshift shelters wondering if destroyed infrastructure, closed businesses and unemployment are the new normal.
These people and their ravaged islands—places they eagerly shared for decades with North Americans and Europeans seeking vacation escapes, picturesque landscapes and family memories—must not be left to fend for themselves in the face of personal and economic devastation.
For the past decade, Resonance Consultancy has worked on many of the islands, collaborating with entrepreneurs, business owners and developers, and advising tourism and government leaders on ways to build economic opportunities and optimize operations today and for the future.
Our knowledge of the islands, as much as our compassion, is leading us to call for an immediate and decisive multi-national effort to rebuild and revitalize the region's infrastructure and economy: nothing less than a Marshall Plan for the Caribbean.
WE NEED TO REBUILD THE CARIBBEAN
Resonance Consultancy joins a growing chorus of voices calling for a comprehensive plan, including that of Sir Richard Branson; Resonance suggests that his appeal for a British Virgin Islands Marshall Plan could be enlarged to encompass the broader group of islands and countries impacted by these storms.
What is needed now is a blueprint, an action plan and funding on the scale of the historic Marshall Plan, the multibillion-dollar U.S. program that helped rebuild Western Europe after the ravages of World War II.
The United States, France, Britain, Spain, Holland and other countries have enjoyed the hospitality of their Caribbean territories. It's time to give back and help rebuild a stronger, more sustainable future for the region. After the rescue and recovery is complete, let's use this opportunity to empower the Caribbean to withstand future challenges and become an even more attractive place to live, work, play and invest.
It starts with caring for the people of the Caribbean and prosperity will follow. Let's begin in the nations whose territories have suffered the most—the U.S. and British Virgin Islands, St. Martin/Maarten, Barbuda, Dominica and others—and rebuild the infrastructure, re-start the economy, re-open businesses, restore jobs, and bring back visitors.
WE HAVE THE BLUEPRINT
Let's follow the Marshall Plan's most effective strategies: the relaxation of business regulations to spur economic growth and investment; the local focus on facilitating increased productivity; and reimagined, freer import and export trade. Let's fully fund reconstruction and redevelopment. Let's lead the charge.
Now is the time to return the generosity to the people who have given so much, and to the places of the Caribbean that we love so much.
Please join Resonance Consultancy in calling for a Marshall Plan for the Caribbean and sign the petition. We need the United States Administration and Congress to lead and set an example for Europe and other nations to follow.
About Richard Cutting-Miller
A 16-year EVP for the World Travel & Tourism Council (WTTC), Richard has worked in 65 countries, more than 350 cities, and produced some 50 strategic plans for tourism-focused economies. He leads Resonance work in consumer research, tourism master planning, opportunity assessments, event and festival strategies, business and marketing plans, as well as growth scenarios; destination development strategies, action plans, assessments and other initiatives. He was recently invited to join the board of the Caribbean Tourism Organization, the region's tourism development agency. The CTO includes membership from more than 30 countries.
About Resonance Consultancy
As leading advisors in real estate, tourism and economic development for three decades, Resonance Consultancy combines business strategy and marketing creativity to shape the future of destinations and developments around the world. Our services span development strategy, place branding, place marketing and placemaking. To date, our team has completed more than 100 visioning, strategy, planning and branding projects for destinations and developers in more than 70 countries. To learn more about us and our services, please visit ResonanceCo.com, or contact Sara J. Fahy, VP Strategy & Public Relations at +1(949)887-4476 or sfahy(at)resonanceco.com.