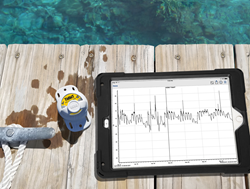 Bourne, MA (PRWEB) October 02, 2017
Onset, a world leader in data loggers and weather stations, today announced the launch of its HOBO MX2200 Series water temperature data loggers, which leverage Bluetooth Low Energy (BLE) to let users easily offload data to their mobile devices. With the new BLE-enabled loggers, users no longer need to bring laptops or shuttles into the field, making research and monitoring of rivers, streams, oceans, soil, and other environments easier and more efficient than ever.
"For decades, Onset has been the standard bearer of water temperature monitoring equipment for environmental research and preservation, with solutions that meet the highest levels of accuracy, reliability, and performance," said Scott Ellis, product marketing specialist with Onset. "We are extending this commitment with our HOBO MX2200 Series, which complements our popular HOBO Pendant® and TidbiT® loggers by harnessing the power of mobile technology to bring greater efficiency and ease-of-use to capturing water temperature data."
Bluetooth-Enabled Loggers Streamline Data Collection
HOBO MX2200 Series loggers dramatically cut the time and effort needed to collect field data by incorporating BLE technology. Users simply remove the loggers from the water to wirelessly access high-accuracy temperature readings right from their iOS or Android mobile phones or tablets.
The loggers work with Onset's free HOBOmobile® app for logger setup and data management, enabling users to easily configure the data loggers and manage collected data in real time. From their mobile phones or tablets, users can view data in graphs, check the operational status of loggers, share data files plus graph images, and store data in the cloud. There are no cables to deal with, no computer software to install, no devices to pair, and no internet access required.
MX2200 Series Provides Research-Grade Performance
The HOBO MX2200 Series delivers research-grade performance with accuracy of up to 0.2°C from 0° to 70°C (±0.36°F from 32° to 158°F), and expanded memory capable of storing 96,000 measurements. Water depth ranges from 100 feet with the MX2201 and MX2202 to 400 feet with the MX2203 and 5,000 feet with the MX2204. Additionally, the MX2202 features a built-in light sensor to provide repeatable light-level data in shallow-water monitoring applications. All models have a rugged, waterproof case with mounting tabs that make deployment fast and easy.
The HOBO MX2200 Series also facilitates the management of battery power in two ways. The MX2203 and MX2204 models are equipped with a Water Detect feature that preserves battery power by halting the Bluetooth advertising of data updates until the logger is removed from the water. And the MX2201, MX2202, and MX2203 models feature user-replaceable batteries.
Pricing and availability
The HOBO MX2200 Series is available today, featuring four models with prices ranging from $54 to $139. The HOBOmobile app for the loggers is available as a free download for Apple iOS on the Apple iTunes store and for Android through the Google Play store. Additional pricing details and technical specifications for the HOBO MX2200 Series are available at http://www.onsetcomp.com/mx2200.
About Onset
Onset is a leading supplier of data loggers and monitoring solutions used to measure, record, and manage data for improving the environment and preserving the quality of temperature-sensitive products. Based on Cape Cod, Massachusetts, Onset has been designing and manufacturing its products on site since the company's founding in 1981. Visit Onset on the web at http://www.onsetcomp.com.
###
CONTACT
Onset Media Relations
508-743-3181
http://www.onsetcomp.com
media(at)onsetcomp.com