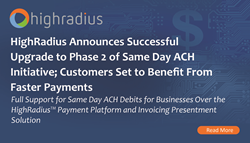 (PRWEB) October 03, 2017
Suppliers now have the option to offer Same Day ACH settlement to their buyers' by using the HighRadius™ EIPP Cloud and RadiusOne™ B2B Payment Network. HighRadius EIPP Cloud and the RadiusOne network, which automate digital invoice delivery and facilitate faster collection of payments, recently incorporated this functionality as another step towards helping suppliers leverage faster payment methods for faster receivables conversion.
The U.S. payments system has undergone some major changes over the past year. The rollout of the 3-phase Same Day ACH initiative was one of the several notable trends in faster payments. The financial services community witnessed the Phase 2 rollout of Same Day ACH debits on September 15, 2017, after which financial institutions started accepting same-day debits.
Same Day ACH payments will be identified by coding the date of the payment using the payment settlement date, thus meeting the deadline defined by the ACH Operator's same-day processing window. Using HighRadius EIPP Cloud, transaction originators could code the settlement dates in their ACH transactions and select the payment settlement window. They could further show intent for same-day settlement using an optional, yet standardized, same-day indicator in the transaction.
Once Same Day ACH Debit capabilities are launched and made available, money will spend less time residing in a bank account for authorized same-day debit transactions and will be posted to accounts faster. While enabling businesses which use the ACH Network to send and receive payments faster, HighRadius, the leading provider of Integrated Receivables™ technology, is committed to optimize cash flow through automation of receivables and payments processes across the credit-to-cash cycle.
For more information on our Integrated Receivables solutions, please click here.
About HighRadius Corporation
HighRadius is a Fintech enterprise Software-as-a-Service (SaaS) company. The HighRadius™ Integrated Receivables platform optimizes cash flow through automation of receivables and payments processes across credit, collections, cash application, deductions, electronic billing and payment processing. Powered by the Rivana™ Artificial Intelligence Engine, HighRadius™ Integrated Receivables enables teams to leverage machine learning for accurate decision making and future outcomes. The RadiusOne™ B2B payment network allows suppliers to digitally connect with buyers, closing the loop from supplier receivable processes to buyer payable processes. HighRadius solutions have a proven track record of optimizing cash flow, reducing days sales outstanding (DSO) and bad debt, and increasing operational efficiency so that companies may achieve strong ROI in just a few months.
For more information contact:
Taylor Bartlett
Marketing Coordinator
taylor.bartlett(at)highradius.com