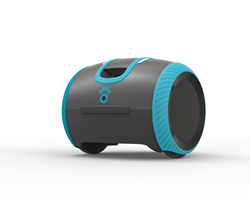 We want to revolutionize a dog's life by giving them a real companion to spend their day with.
Paris, France (PRWEB) October 02, 2017
CamToy launched its first crowdfunding campaign today on Indiegogo for their robot pet companion, Laïka, with a funding goal of $40,000. Laïka gives dog owners the ability to interact with their pets while they are away so that their pet is never truly alone. Laïka helps keep dogs occupied at all times while maintaining an emotional connection with their owners due to its integrated camera and treat tosser that can be controlled through a smartphone.
"I have been a dog lover since childhood and got the idea when my last dog would destroy everything while I was away," said CamToy CEO Thomas Samtmann. "A dog is a member of a family that is sometimes left alone all day long while people go to work. We will change this! We want to revolutionize a dog's life by giving them a real companion to spend their day with."
Laïka is perfect for people on-the-go, but who consider their dog a member of their family. Laïka uses multi-directional movement for interaction with the dog and provides live video and recording that can be controlled through a smartphone. Owners also have access to the home's sound environment to detect noise. Detection of repeated barking gives owners a notification via the smartphone application. The ability for vocal interaction with the dog, a treat tosser controlled through the smartphone application, and a self-running mode to occupy the dog without the control of the owner makes Laïka a great pet companion.
In order for owners to create a friendly relationship between their dog and Laïka, the treat dispenser allows owners to use almost any treat they like as long as it fits in the dispenser to reward their pet. Laïka is also durable enough to withstand playtime with dogs of all sizes.
Laïka by CamToy is now available on Indiegogo for an early bird price of $275. To learn more about dog's newest companion, visit bit.ly/LaikaIGG.
About CamToy
As students and dog owners, the CamToy team realized they needed a solution to their dog's bad habits while owners were away. With CamToy, they wanted to create a product beneficial to both the pet and the owner to maintain an emotional connection and keep pets occupied. To learn more about CamToy visit http://www.camtoy.fr/.