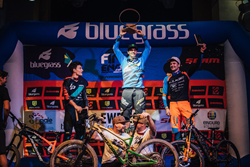 It's massive to accomplish a dream I set for myself at the start of the year. I felt a lot of stress at the start of the week, but once I started racing I was more relaxed and just focused on one stage at a time. It's amazing to win in my first full year of the EWS - Sam Hill
Finale Ligure, Italy (PRWEB) October 02, 2017
Monster Energy's Sam Hill (AUS) won his first ever Enduro World Series overall title this past weekend in Finale Ligure, Italy and took third place in the event. It is the downhill legend's 6th World title, and his first ever in the Enduro discipline. When all was said and done, the tough physical course played to Hill's strengths and his third position in the race was enough to secure him his first Enduro World Champion title. As expected, he did it all on flat pedals, something no one thought possible.
The Australian downhill racer switched to Enduro full-time late last season and set his mind on the World Title almost instantly after a couple of successful first few races. More of a marathon than a sprint, Hill had to navigate mind, body and equipment 56 stages this season over eight events that spanned the globe from Tasmania to Italy in order to take home the coveted overall EWS series trophy. Hill was ecstatic with how his first season competing in all of the Enduro events has gone.
"It's massive to accomplish a dream I set for myself at the start of the year," said Hill. "I felt a lot of stress at the start of the week, but once I started racing I was more relaxed and just focused on one stage at a time. It's amazing to win in my first full year of the EWS."
The tracks here in Finale are renowned for being steep and rocky and given the lack of moisture at this event, one of the few this year in the dry, they became incredibly dusty and slippery. With seven stages over two days and a slim lead in the title chase, the pressure was on to secure the championship. Not one to take a conservative approach to racing, Hill attacked as always, taking 3rd place for the weekend only 30.49 seconds off the lead after 49 minutes of total timed stages here in round 8.
Taking home the EWS title on the heels of a 6th place at Downhill World Championships two weeks ago, and a half a world away may seem a daunting task for most, but for Hill it's just another day at the office. Plans for next year including defending his new title as well as possibly making an appearance at a downhill World Cup or two to keep the fans on the edge of their seats.
"I'm going to focus on the EWS series against next year and try to defend my title," said Hill. I think I learned a lot this year, and I feel like I can come back even stronger. Not sure on the World Cups, I have no plans at the moment but it could happen."
Look for Hill at local XC and Enduro events across Australia over the off-season as he commences his winter training to continue his domination through the 2018 season.
Photos for editorial use only.
For more on Hill and the rest of the Monster Energy team visit monsterenergy.com and make sure to follow Monster Energy's Facebook, Instagram & Twitter for exclusive updates.
###
About Monster Energy:
Based in Corona, California, Monster Energy is the leading marketer and distributor of energy drinks and alternative beverages. Refusing to acknowledge the traditional, Monster Energy supports the scene and sport. Whether motocross, off-road, NASCAR, MMA, BMX, surf, snowboard, ski, skateboard, or the rock and roll lifestyle, Monster Energy is a brand that believes in authenticity and the core of what its sports, athletes and musicians represent. More than a drink, it's the way of life lived by athletes, sports, bands, believers and fans. See more about Monster Energy including all of its drinks at http://www.monsterenergy.com.