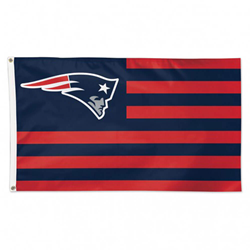 Little Rock, Ark. (PRWEB) October 03, 2017
FlagandBanner.com sells many NFL sports flags this time of year, but in recent weeks it has seen an uptick in U.S. flag sales in response to an increase in kneeling protests from NFL football players and other athletes.
Owner Kerry McCoy noted the increase and also asked buyers why they're choosing to order flags at this time. She said, "I've seen lots of ebbs and flows of patriotism in this business, and we have recently seen a surge in sales of U.S. flags and residential flagpoles in response to the controversy of kneeling at NFL football games."
"I asked one of my customers about it and he said, 'It's not that I oppose what the football players are doing, I just want to represent the side of our country that is great.'"
Flag and Banner began in 1975 as Arkansas Flag and Banner and is based in Little Rock, Arkansas.
For more information about U.S. flag sales during periods of political controversy, or to schedule an interview with Flag and Banner owner, Kerry McCoy, call (501) 375-7633.