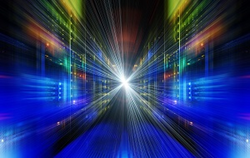 Bolulder, Colo. (PRWEB) October 03, 2017
Enterprise Management Associates (EMA), a leading IT and data management research and consulting firm, today announced it will host a webinar titled "Arrive at the Future Faster with Next-Generation Workload Automation (WLA)" featuring Dan Twing, president and COO at EMA, and Miroslaw Andziak, CEO at InfiniteDATA.
Modern IT infrastructure will be required to be a next-generation company. Big data and digitalization bring together disparate data from many sources and require many back office steps. Managed file transfer and workload automation are key to orchestrating all of these moving parts in a consistent, coordinated, and timely manner. However, infrastructure tools often struggle to keep pace with the rate of change driven by business needs. While satisfaction with WLA has increased over the past three years, so has the desire of organizations to change their WLA solution. Improvements are not coming fast enough. A new approach is needed.
During this webinar, Twing and Andziak will provide insight into this new approach, as well as discuss:

Why automation is at the core of becoming a next-generation business
The technical and cost challenges old infrastructures impose
The key priorities of those looking for new WLA capabilities
How a modern architecture can increase flexibility and lower cost
The approach to move from traditional to next-generation WLA
The webinar is Tuesday, October 17 at 9:00 a.m. Eastern. Those who wish to attend can register at: http://research.enterprisemanagement.com/next-gen-workload-automation-webinar-pr.html
About EMA
Founded in 1996, EMA is a leading industry analyst firm that specializes in providing deep insight across the full spectrum of IT and data management technologies. EMA analysts leverage a unique combination of practical experience, insight into industry best practices, and in-depth knowledge of current and planned vendor solutions to help clients achieve their goals. Learn more about EMA research, analysis, and consulting services for enterprise line of business users, IT professionals and IT vendors at http://www.enterprisemanagement.com or blogs.enterprisemanagement.com.